Keep Your Baby's Bath Toys Clean And Safe
Your baby loves to play with her little rubber ducky in the bathtub, but you may be surprised to find out what's lurking inside her favorite bath toy.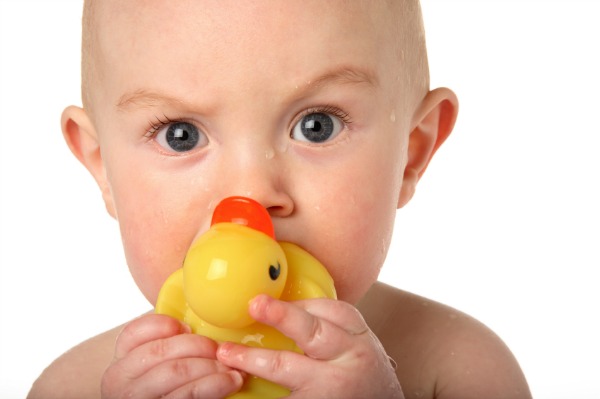 Contributed by Lisa Steinke
I was recently horrified to discover the moldy innards of my daughter's beloved bath time rubber duckies. I pride myself on being incredibly anal (to the point of near obsession) about regularly cleaning her toys and the mats under her play area, so I was upset that mold got the best of me.
The bath toys had to, in turn, suffer a terrible fate as they were immediately banished to the bottom of the closest trashcan. As I flung the ducks over my shoulder, I did my best to distract my daughter — who loves her rubber duckies so much, I bought her a rubber duck-themed smash cake for her first birthday.
I then began to analyze all of the toys, squinting and pulling them apart as I searched for other signs of mold. Then I decided there has to be a better way. Bath toys that don't breed mildew must exist. Turns out they do! But it also turns out, I can do a better job of preventing the mildew from forming — or getting rid of it once it does.
Read on for a great list of Mom 101 tips to prevent mildew in bath toys and for suggestions of bath toys you can buy that will be mold-free.
Avoid the holes
Don't buy bath toys with squirt holes, crevices or any type of opening! The holes are where it "all happens," especially if you don't clean the toys regularly (see below). If you don't want the hassle of mildew forming inside the toys (like what happened with my daughter's rubber ducks!) the answer is simple — don't buy toys with holes. End of story. Keep in mind, however, that if you buy waterproof books and other items with crevices and openings, mildew can still form. It's important to clean all bath toys regularly.
Clean toys often
If you do buy bath toys with squirt holes and other openings, you can clean them (without using bleach) to prevent mildew from forming. (Note: I suggest throwing away toys once the mildew is already there.) Clean the toys weekly in one part hot water, one part distilled vinegar and a few drops of dish soap. Vinegar dissolves soap scum while dish soap removes dirt. Soak the toys for 10 minutes and use an old toothbrush to help clean them, if necessary. Rinse the toys in warm water and let dry completely.
Store the toys properly
As we all know, it's easy to get lazy after giving your baby a bath. It's been a long day and sometimes the last thing you want to deal with is cleaning up. After each bath, squeeze the water out of the toys, then store toys in a way that allows for proper drainage. Letting the toys dry in a well-ventilated place is also key.
Go shopping
Ditch the rubber duckies with holes in them and consider these bath toys and toy organizers.
Quick tip
Try hot glue in the hole of new toys. Prevention is the best medicine!
More about bath time
Do newborns need a regular bath?
The ABCs of bathing baby
Teach baby water fun from bath #1