Why Cuddling Is More Important Than You Think
In the first few minutes after birth the most important thing to your baby is not his APGAR score or his weight — it's you.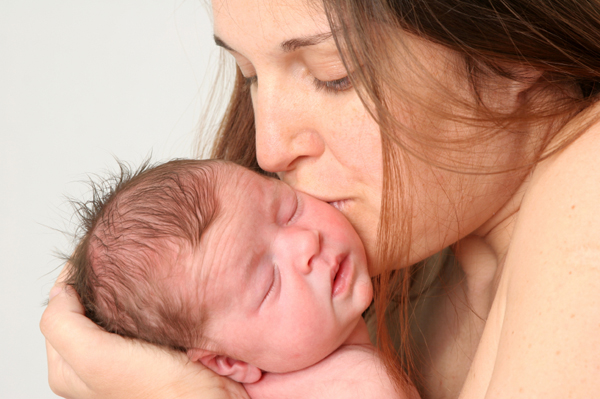 After a textbook, beautiful delivery a few weeks ago at the hospital where I work as a labor and delivery nurse, I was a bit taken aback when my patient's husband whipped off his shirt and cuddled down with his freshly-born daughter. As it turns out, he was doing the best thing for his newborn — and I could stand to learn a thing or two from him.
What is skin-to-skin?
While it's natural for new parents to want to hold their baby as soon as possible after birth, the practice of skin-to-skin is a little different than a mother simply holding her baby. Skin-to-skin, also known as kangaroo care, is the practice of placing the newborn directly on a parent's (usually the mother) chest immediately following birth. The infant and mother can be covered with a blanket, but the key is that the baby and the mother need to be undressed; hence the skin-to-skin component. If the mother is breastfeeding, skin-to-skin can also be accomplished while the infant is nursing.
How is it beneficial?
The benefits of skin-to-skin are remarkable. A study published in Pediatrics, the Journal of The American Academy of Pediatrics, describes the time immediately following birth as one of the most "potentially hazardous events in the human life cycle." The study reports that as the newborn transitions into life outside of the womb, she goes through a level of high stress and brain activity. (Anyone else feeling the need to go hold a baby right now? Poor things!)
Skin-to-skin helps the infant transition to extra-uterine life, improving temperature regulation, breathing, oxygen circulation, heart rate and promoting weight gain and even boosting Mom's milk production. The study also found that for babies born prematurely or with other medical conditions, regular skin-to-skin care helped to shorten their hospital stays.
How does it work?
The same Pediatrics study states that skin-to-skin is "supposed to help the newborn regulate himself in the presence of incoming information from the outside world." In other words, skin-to-skin literally helps the infant use his mother as a shield and barrier against the world. Which is something any parent can only hope to do forever, right?
Interestingly, skin-to-skin seems to have benefits that go beyond the immediate post-birth transition time. Infants that received skin-to-skin or regular kangaroo care have shown to sleep better, breastfeed longer and be more alert.
What if I have a C-section?
Some doctors and hospitals are changing practices to try to incorporate the early initiation of skin-to-skin care with all infants, even those born by C-section. If you have a C-section scheduled, talk to your health care provider to see if any accommodations can be made. And don't forget the example of my patient's husband — dads can do skin-to-skin too!
More about babies
Why your baby won't stop crying
5 Ways to get comfortable with your new baby
Undress for success