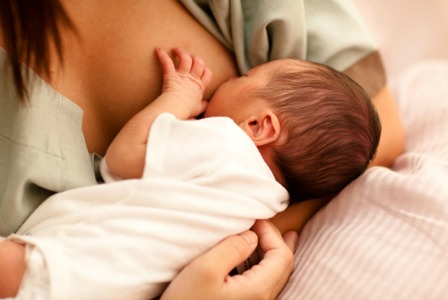 You've heard it time and time again — breastfeeding provides the ultimate in nutrition for your baby. Except now, it's not quite enough. Doctors say your little one needs Vitamin D supplements too.
The importance of Vitamin D supplements
Based on recommendations from the CDC (Centers for Disease Control & Prevention), pediatricians are now urging all nursing mothers to give their babies supplemental Vitamin D.
When I took my third child in for his first check-up, I can admit that I had a bit of a "been there, done that" attitude. Having given birth to three children in the past four years and working as a labor and delivery nurse, I felt certain I had learned all there was to know about parenting during the baby stage. So I was surprised when my pediatrician informed me that because I was exclusively breastfeeding my son, I would have to supplement his 24/7 milk bar with Vitamin D.
Why Vitamin D?
Vitamin D, an essential nutrient for bone development and growth, is found in many foods, such as cow's milk and fish, but is produced primarily in our bodies through sunlight. With today's increased concern of skin cancer and the use of sunscreen, which can block Vitamin D, children are not receiving adequate levels from sunshine alone. In 2008, the American Academy of Pediatrics even reported that cases of rickets, a condition caused by insufficient Vitamin D that leads to soft, breakable bones, were reported in Western countries. The study also cited new research that shows Vitamin D may have a critical role in the development of the immune system and in the prevention of diabetes and cancer.
Who needs it?
While breastfeeding provides virtually every other nutrient for infants, it doesn't provide nearly enough of the recommended level of Vitamin D for infants. The American Academy of Pediatrics states that infants need 400 IUs of Vitamin D every day, beginning at birth; breast milk only provides 25 IUs a day. Many formula manufacturers are changing up the levels of Vitamin D in their formula based on the new recommendations, so formula-fed babies may not require additional supplementation, says Dr. Matthew Gormley, a pediatrician in Crosswell, Michigan.
How is it given?
The CDC recommends giving Vitamin D to infants in the form of drops. So be prepared when you take your baby in for his first check-up — you'll be leaving with a syringe of Vitamin D drops and some instructions on how to use them. The drops are administered at home and the syringe can be used to squirt the drops in the back of your baby's mouth. Vitamin D supplementation can safely be continued until around age 1. "As long as they are breastfeeding, babies need the supplementation," explains Dr. Gormley. "Usually by age 1, they are getting whole milk and other food enriched with Vitamin D, so supplementation is not as crucial."
More about baby's health
Colic woes: What can you do to help?
The 4-1-1 on pertussis
RSV season: What you need to know