Does Your Baby Benefit From Playgroups?
She can't even walk yet. Do you really need to start worrying about filling up her social calendar? Read on to find out whether or not all of those playgroups are worth your time.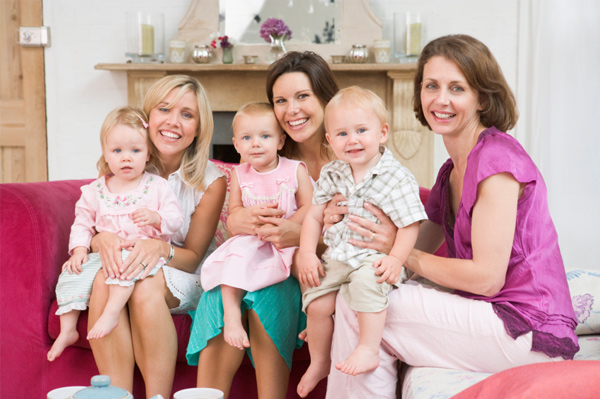 As soon as your baby is ready to roll over, you'll start hearing people recommend local playgroups. It sounds like fun, but does your baby really benefit from these groups?
Social skills
Kids don't really start to work on social skills until they reach about 2 years old. Up until then they tend to play side-by-side instead of interactively, even when placed in a group. Since there isn't much continuous interaction, babies don't improve their social skills from playgroups, mostly because they don't yet have social skills to improve.
If you were looking forward to that playgroup, don't worry. There are still a few benefits from group playtime, both for your baby and for you.
Entertainment
Even babies can get bored, and playgroups are a great way to mix things up! They get out of the house, and get to play in a new space with new toys. They may not interact a lot with the other babies, but some little ones enjoy just looking at other babies, as well as all of the other mommies in the room. Babies are big on people watching, and new faces are always a wonder to take in.
For Mom
You're worried about socializing your baby, but what about socializing you? Mommies need friends even more than babies, and a playgroup is a great way to find them.
New moms often find themselves spending days on end cooped up at home with the baby. While this may be great for bonding, it doesn't do much for Mommy's social life. Playgroups are a great way for you to get out there, talk with other moms and feel like a part of the world — without leaving your precious baby behind. Who knows? You might even make a new friend. If not, you'll at least get an afternoon of adult conversation!
Quick tip
Bring a toy from home to share. This Lion King Hakuna Matata Amazing Animal Tot is perfect to carry along.
More tips for moms from SheKnows
How play stimulates babies
Adding play time to your baby's schedule
Building your baby's library