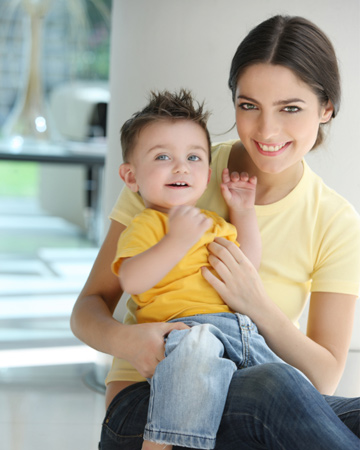 Child care choices
Maternity leave is bliss, but at some point you're going to have to hand off that yummy little bundle and head back to work. Evaluate your child-care options and decide what works best for you.
Nanny
Dr. Fran Walfish, leading Beverly Hills psychologist and author, advises parents — if they can afford it — to keep their children at home with a warm, nurturing, stable nanny at least until the child is 2 years and 9 months old. "Psychologically, the infant and toddler needs to remain with one attachment figure with continuity in the child's own home," says Dr. Walfish. "After 2.9 years, the child has developed enough resolution of the separation process that leaving the warm, supportive environment of home to go to preschool is possible."
Some parents assume hiring a nanny is the most expensive child-care option. Carolyn Stulberg, founder and executive director of the Alexandria School for Nannies, says that's not always the case. "If you are comparing child-care options," says Stulberg, "a nanny can be more cost effective, especially if you have [more than] one child in preschool or day care."
Danielle Jackson, mother of two boys under the age of 6, explains why she uses a nanny. "Since both my husband and I work full time, a nanny alleviates a lot of the stress from getting the kids (and ourselves) ready in the morning to go to day care and arrive at work on time, as well as the hard stops by which you need to pick them up on time."
Jackson says her nanny bathes and feeds the kids before she and her husband get home, so they can focus that precious little time between work and bedtime to play and read. "Finally, and the most important, our nanny loves our kids as if they were her family," Jackson says. "She provides a safe, warm, nurturing environment for them that allows them to grow and thrive."
While a nanny provides care for your child in the comfort of your home, you will need to be prepared for the possibility that on some days your nanny won't show up. You'll also want to make sure to sign a contract so that your nanny doesn't quit before a designated date.
In-home day care
So what if hiring a nanny isn't financially feasible? In-home day care is a more affordable option that can also provide a warm and nurturing environment. The key is to do your research before making your decision. When evaluating in-home day care for your baby, the first thing to do is to make sure the day care is licensed. You'll also want to ask about the typical daily schedule, menu, activities, disciplinary plan, adult-to-child ratio and sick-child policy. Find out if outside guests will be visiting the home and how often, and make sure there will be no smoking or drinking in the home. Some parents enjoy the flexibility of being able to choose their days and hours at an in-home day care, compared with the set schedule of a child-care center.
Child-care center
Child-care centers provide plenty of stimulation for your baby, with caregivers and other children to interact with, and in many cases, state-of-the-art facilities designed to facilitate learning and safe exploration. Child-care centers provide structured environments, with designated drop-off and pick-up times and age-appropriate activities. Some parents also appreciate the peace of mind that comes from knowing there is no chance of a nanny or in-home day care provider being unable to watch your children due to illness or extenuating circumstances.
That said, child-care centers are filled with kids. Kids mean germs, and that means your baby will be exposed to them on a regular basis. Your kids will get sick, so be prepared for visits to the doctor and taking time off work to care for your children. Additionally, your kids will not get as much individual attention in a child-care center because the adult-to-child ratio is typically the lowest of all options.
Words of advice
In the search for great child care, experienced moms advise newbies to start early, take your time and go with your gut.
Share
Let us know what child-care option you recommend and why in the comments section below!
More child-care tips
5 tips for researching safe day-care options
Day care: Sick babies in the short term, healthier kids in the long term
Benefits of great child care last years