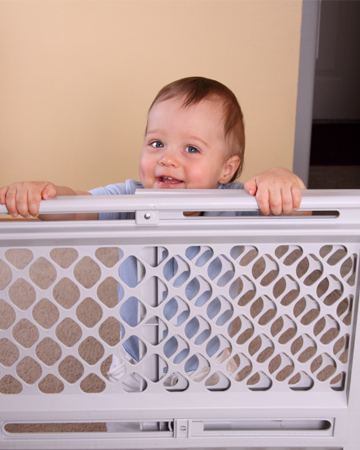 Keep baby safe
You've gotten down to baby level; eliminated small objects and hanging cords; made cabinets, windows, drawers, knobs and toilets impervious to small hands; and set your hot water heater for a max of 120 degrees. Your baby-proofing job is done, right? Don't be so sure.
Laundry detergent capsules
Those little pods of laundry detergent are certainly convenient, but they can pose a big threat to your baby. Carolyn Stulberg, founder and executive director of Alexandria School, says the capsules are one of the new dangers she is stressing in nanny training this year. "Detergent pods are new in the U.S. market and gaining popularity," says Stulberg. "These pods look like candy. They are colorful and easy to swallow. Children are ingesting them because they look like they would taste good." Nearly 500 kids visited the emergency room during a 30-day period this summer because they ingested laundry pods, according to a Centers for Disease Control and Prevention report released in October. Stulberg advises parents to store all detergent up high, out of reach of children, and to buy only liquid or powder detergent.
Magnet balls
Magnets — especially small ones — can be fatal if ingested. Stulberg teaches nannies to pay particular attention to magnetic balls. These balls — sold under different names like Buckyballs, Zen Magnets or Neo Cube — are made for adults to help in relieving stress. Recently banned by the U.S. Consumer Product Safety Commission, these balls are made of the rare earth mineral neodymium which is 15 times more powerful than standard magnet minerals. "Because they are so powerful, if a child swallows a couple of balls, then they stick together and can cause loops of bowel to adhere to each other and can bore holes in the intestine, with life threatening complications," says Stulberg. "My advice to parents is to not have any of these magnetic balls in their home."
Secure large and heavy items
Babies may seem tiny and helpless, but before you know it, they'll be pulling up on bookshelves and furniture as they cruise around the house. The key is to prepare for the next stage before your child gets there. "Secure large and heavy items such as TVs, microwaves, fish tanks, bookcases, furniture and appliances to the wall to prevent them from tipping or falling," says Debra Holtzman, J.D., national child safety expert and best-selling author of The Safe Baby: A Do-It-Yourself Guide to Home Safety and Healthy Living. She recommends securing a stud in the wall using brackets, braces, anchors or wall straps, and always reading the manufacturer's instructions for tips or warnings regarding placement of your TV or furniture.
Leave the toxins at the door
If you've never implemented a "shoes-off" policy in your home, having a baby is a good reason to do so. "Pesticides and other toxins that cause harm to humans can be easily tracked into the home on the soles of shoes, and can settle into the carpet — where your child plays, sits and crawls." says Holtzman. If you don't feel comfortable asking guests to remove their shoes, at least add a welcome mat at your front door for family members and guests to wipe their feet before entering.
Get rid of latex balloons
Holtzman says more children have suffocated on un-inflated balloons and pieces of balloons than on any other type of toy. She recommends keeping latex balloons away from children under 8 and choosing shiny, metallic Mylar balloons instead.
Batteries
Button batteries are particularly dangerous. When swallowed, these small lithium batteries can burn the esophagus with a potentially fatal outcome. Keep button batteries and things that contain button batteries (remote controls, toys, musical greeting cards, flameless candles, calculators, watches and other electronics) away from babies and small children.
*Remember: This is not a complete baby-proofing list. For more information on child-proofing your home, visit thesafetyexpert.com.
Expert tip
Ingrid Kellaghan, parenting expert and founder of Cambridge Nanny Group in Chicago, says, "Preventing accidents is important, but knowing what to do should an accident occur should not be overlooked." Make sure you're prepared by taking First Aid, CPR and AED (automated external defibrillator) classes.
More important baby-proofing information
One child dies every two weeks due to tip-overs
Baby safety: Protect your baby from falls
5 overlooked baby dangers