Classy Baby
Shower Games
Planning a baby shower? Giggling with the girls is half the fun. Take our advice and skip the crude activities (no melted candy bars in diapers here) and go for shower games of a classier sort.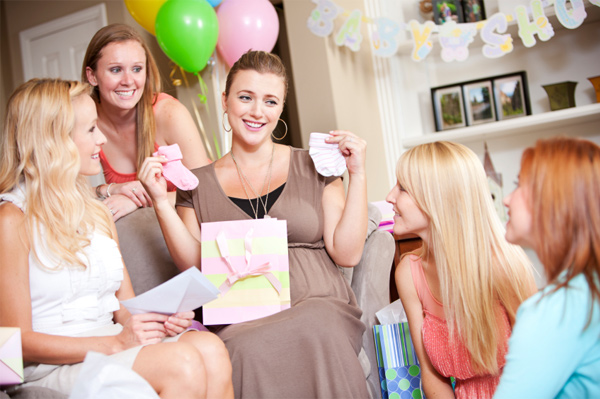 I spy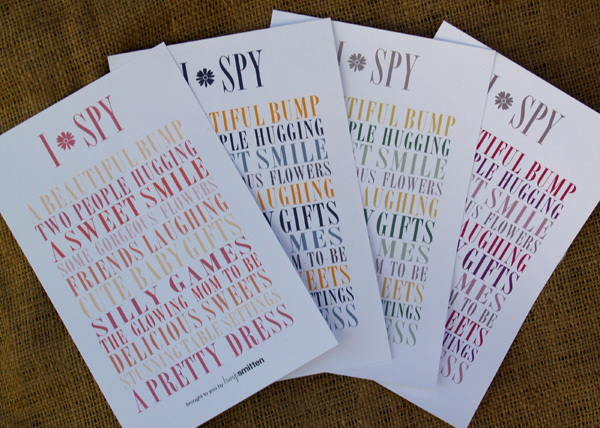 This I spy baby shower game, adapted from Martha Stewart's version for kids, will give your guests a fun activity and help capture special moments on film. Give each guest a list of items along with a digital camera (or you can have your friends use their smart phone cameras). The first person to take all the photos on the list wins a prize. Just make sure they share their snaps after the shower! Free download available at Bump Smitten.
Name the price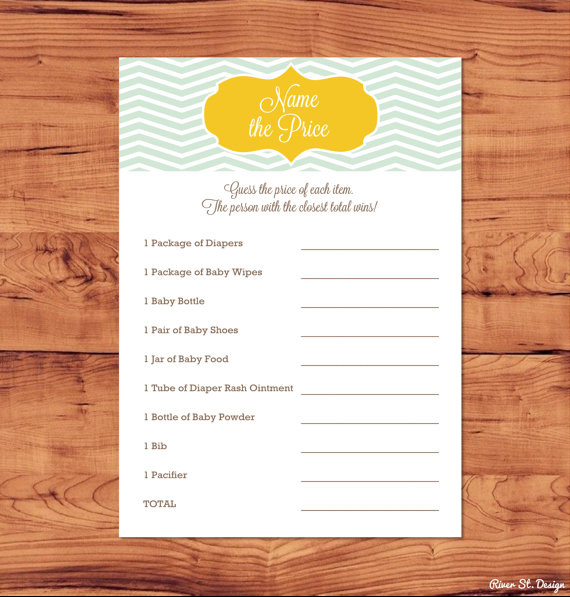 If you're a Price is Right fan, you'll love quizzing party guests on the cost of baby products. Leave the answer field blank — like this printable from River St. Design — or go easy on your "contestants" and give them multiple-choice answers to circle. The person with the most correct answers wins the prize. One of each item on the list, perhaps?
Custom word searches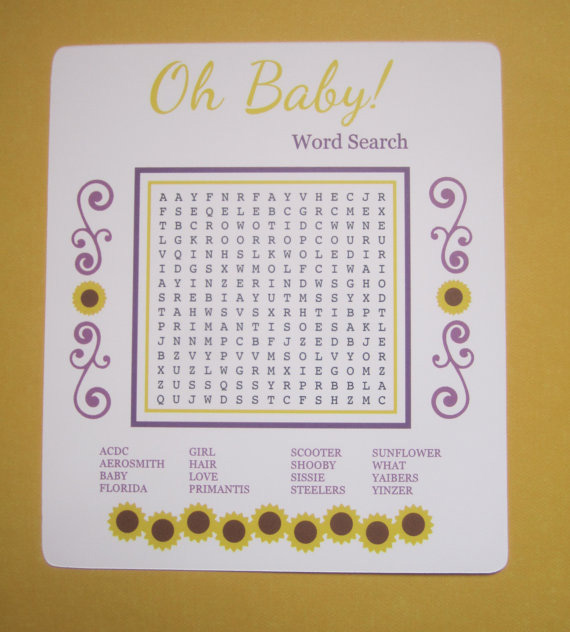 Who doesn't love a good word search? Ollie's Shop will create a custom word search to match your party's theme, colors and words that have special meaning to your guest of honor.
Wishes for baby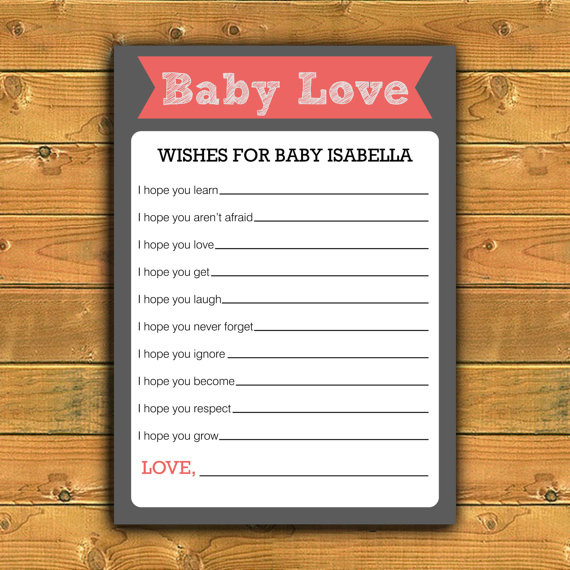 Create a special keepsake by asking guests to fill out a card with their baby wishes for the future. Customize this printable from Parraclan Designs with the colors of the shower and the baby's name, if you wish. Give the new mama a pretty box along with these sentiments for storing them safely (and stylishly).
Baby shower bingo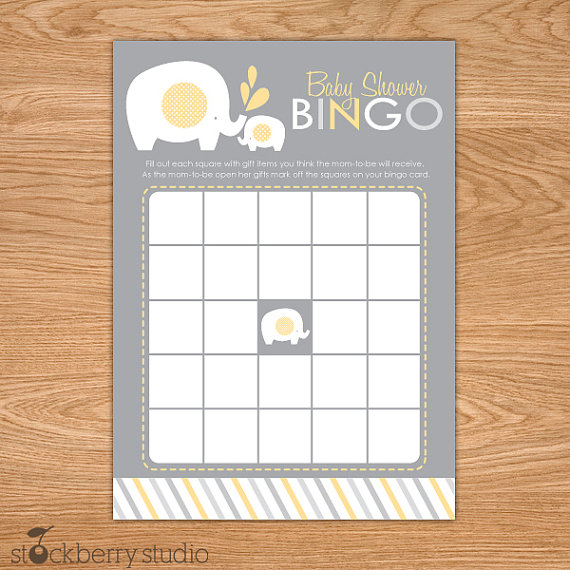 Create a little friendly competition with this baby shower bingo game. Have each guest fill out the squares with the gifts they think the mother-to-be will receive. As the new mama opens her gifts, guests mark off the squares on their bingo card.
Points in your purse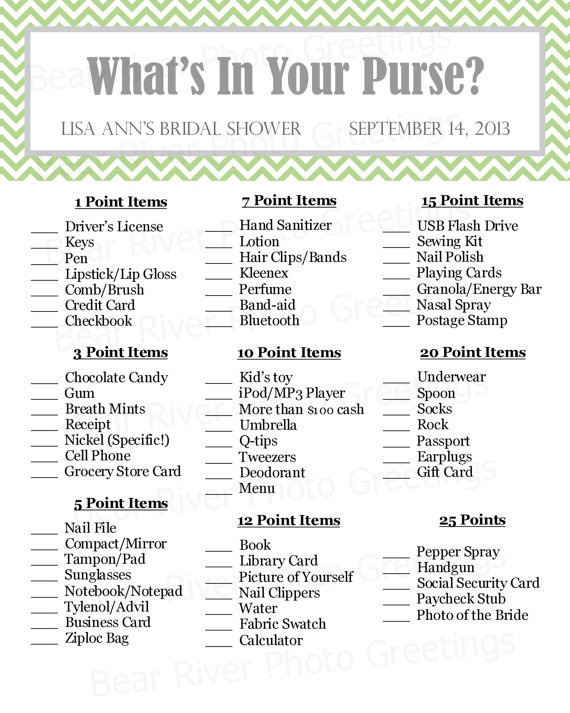 As every mom knows, a well-stocked purse is essential. This game will have your guests sifting through their pocketbooks to see just how prepared they are. This Points in Your Purse printable from Photo Greetings awards one point for typical items like combs and credit cards, and 20 points for impressive items like spoons and socks. You might be surprised at some of the strange things your friends have stashed in their purse!
Celebrity baby name game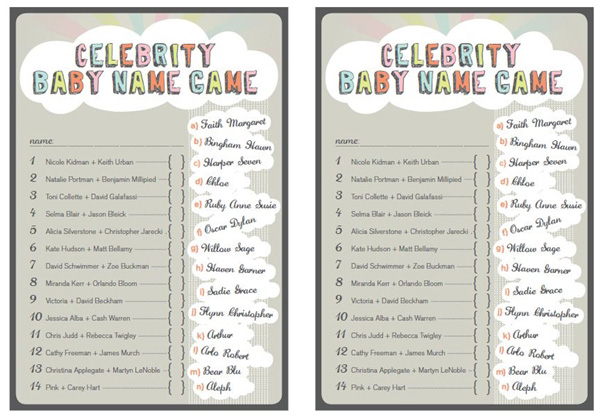 Find out who's been reading their Us Weekly by quizzing guests on the names of celebrity babies. Create your own matching game with the latest celebrity offspring (like the one shown here from For the Love of George) or order a custom printable from Etsy.
Quick tip
Check out Bump Smitten for loads of ideas, DIY projects and a gallery with hundreds of gorgeous baby showers.
More fun baby shower ideas
12 fun baby shower games
Baby shower food ideas: Finger foods, sandwiches and desserts
Baby shower etiquette and planning tips