Get Cozy Chic
When it comes to your baby's comfort, nothing is too luxurious. That's why we love SwaddleDesigns warm, lush baby linens. SwaddleDesigns offers a wide range of deluxe products, from decorative burp cloths to flannel fitted sheets, cashmere blankets and more.
All of SwaddleDesigns comfort and care products are innovative, top-quality, modern and offered in several beautiful colors and designs. Below are just a few of our favorites.
Under wraps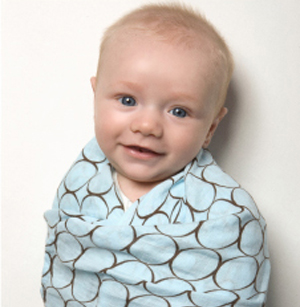 We've all heard that we are now encouraged to swaddle newborns. So what exactly is swaddling? It is securely wrapping your infant in a blanket so they keep toasty and feel snug as a bug. It keeps your baby from startling himself with his own reflexes, and reminds him of living in the womb, which can calm him down. But not just any old blanket will do for the art of swaddling. You need something ultra-soft against your baby's tender skin, and just the perfect size for wrapping.
SwaddleDesigns' 100 percent cotton Marquisette Swaddling Blankets are lightweight so they're perfect for warmer climates; open-weave, allowing airflow and breathability; and bigger than most, so they're perfect for swaddling plus other uses, such as tummy time, burping and breastfeeding.
Zip along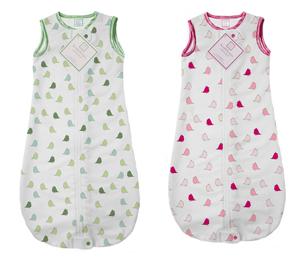 When it's time for baby to transition from swaddling, it's time to graduate to SwaddleDesigns' zzZipMe Sack Wearable Blanket. A wearable blanket is the perfect solution to keeping your baby warm while sleeping, since the National Institute of Child Health and Human Development (NICHD) recommends that parents do not put any blankets or pillows in cribs or bassinets in order to reduce the risk of SIDS. This is because loose bedding can cause suffocation if Baby moves around in his sleep. However, a blanket that the baby can be zipped up in can prevent this.
The zzZipMe Sack has a two-way zipper that zips at both the top near the neck opening, and also at the feet, allowing for easy diaper changes. You can choose from several different fabric options for the award-winning zzZipMe Sack, including velvet, cotton flannel, organic cotton flannel and organic eco-fleece. As an added bonus, they have been thermal tested using TOG testing so you know how to appropriately dress your baby given your home's temperature.
Blanketed in comfort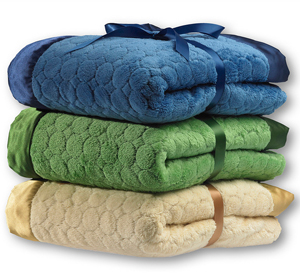 While it's important to comfort your baby, don't forget to indulge yourself! SwaddleDesigns makes a Home Collection as well, because you deserve a little extravagance, too. Wrap yourself in their Swaddle Wrap Luxury Throw for Adults (54" by 72"), which is so soft you'll never want to get up. Available in several colors, no matter what you choose, the fuzzy blanket trimmed in pretty jewel tone satin will make a beautiful addition to your decor. It's the perfect gift for new parents!
These are just a few of SwaddleDesigns products. They also offer superior burp cloths, bibs, fitted crib sheets, baby body suits and hats, towels and washcloths, security blankets and more!
More on baby products
Baby gear for active parents
3 Baby registry items you need
Should you buy organic baby products?