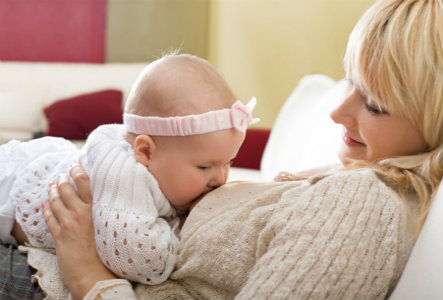 Can you breastfeed after breast surgery? In many cases, the answer is, "yes." Moms share their stories about successfully nursing their babies after breast surgery.
Find the support
you need
Breastfeeding after implants
Plastic surgeon Dr. Robert Rey explains, "Breastfeeding is usually not an issue with the newer breast augmentation techniques performed today. In the past, some of the techniques were more traumatic and compromised glandular tissue and ducts."
Kristin S. did her homework before getting implants when she was 18, years before she became a mom. She says, "The issue crossed my mind as soon as I started researching breast implants. I knew that I wanted them, but whether or not I would be able to breastfeed in the future played a big role in determining if I was going to get them. I eventually chose to move forward, and to go under the muscle to minimize the effect the implants would have on my body's natural state. Upon having my son I was delighted to see that it had no effect."
Lauren M. adds, "I'm so grateful to be breastfeeding. It has created such a wonderful connection between me and my baby. It feels so natural and I'm excited that after she is weaned from my milk that I will still have large perky breasts."
Breastfeeding after a reduction
Sharon C. had breast reduction surgery after the birth of her first baby. "The first I had successfully breastfed," she says. "I was concerned I would be unable to breastfeed the second and that was very important to me. Had I not been so affected by my huge boobs I would have put off surgery until I was done having a family. Fortunately I was able to feed my newborn son and did so successfully though it seemed the volume was less than my first baby."
Whether or not you can nurse after a reduction will depend on the type of surgery you have. Dr. Rey explains, "Some of the newer techniques of breast reduction allow for better chances of being able to breastfeed. The Vertical Breast Reduction does not involve removal of the nipple. This method, as well as other less invasive methods where the nipple is not detached, makes it more likely for women to be able to breastfeed afterwards. More invasive techniques such as the Wise Pattern Breast Reduction has a much higher likelihood of compromising breastfeeding because the nipple is removed during the procedure."
Lactation consultant Sara Chana, IBCLC says, "Most often the woman's breasts grow during her pregnancy and moms are shocked. They can latch their baby's onto the breast and can produce some milk, but usually they have to also supplement."
Breastfeeding may even be possible if you've had one breast removed. The nursing option will depend on what medications you may be taking, but Chana says, "One breast will provide enough milk for their baby."
Where to find support
Nursing moms need support whether they've had breast surgery or not. Connect with a lactation consultant, talk to your healthcare provider and moms who successfully nursed their babies — you'll find they may have faced nursing challenges, too.
More about breastfeeding

Guide to breastfeeding for working mothers
10 Top breastfeeding mistakes
Breastfeeding basics