What Moms Need To Know
The pertussis season is upon us, but many moms don't know how they can help protect their family from this potentially deadly respiratory infection. Learn how to recognize the symptoms and why vaccination is important for everyone — not just babies.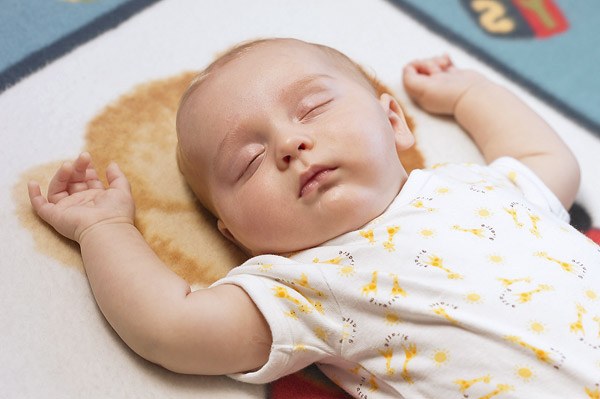 Pertussis, also known as whooping cough, is a respiratory infection that is more common in the colder winter months, and can be deadly in young babies. The American Academy of Pediatrics recommends that babies be vaccinated for the disease starting at 2 months of age, but people of all ages can contract, carry and spread pertussis.
What to look for
Dr. Edward McCabe, senior vice president and medical director of March of Dimes, gave us a few tips on what parents can look for if we suspect our little one may have been exposed to pertussis. He notes that pertussis mimics the common cold at the initial stages of the disease, with symptoms like a runny nose, congestion, sneezing and possibly a mild fever and cough. "However, after one to two weeks of these symptoms, severe coughing can begin and continue for weeks," he explained. "Pertussis can cause violent and rapid coughing which tends to produce a 'whooping' sound between coughs, although this sound can be absent or minimal in infants."
Where the danger arises
In adults and adolescents, pertussis may not cause any more problems than a typical wintertime cold. But in younger kids, it can be a long, drawn-out illness that can sometimes be fatal. It can be especially grim in babies who are really young. "More than half of babies younger than 1 year of age who get the disease must be hospitalized," said Dr. McCabe. "In recent years, about 92 percent of pertussis deaths have occurred in infants younger than 12 months of age."
How you can help
Follow your pediatrician's recommended vaccination schedule, but you also need to know that you and the rest of your family members may need a booster shot of your own. "Research has shown that when a source of an infant's pertussis was identified, parents were responsible for transmitting the disease up to 80 percent of the time," shared Dr. McCabe.
The U.S. Centers for Disease Control and Prevention currently recommends that adolescents and adults get a pertussis vaccine. "The March of Dimes and Sanofi Pasteur want to stress that all new parents need the pertussis vaccine," Dr. McCabe told us. "Until your baby gets their first pertussis shot at 2 months, the best way to protect him or her is for you to get the adult Tdap vaccine before pregnancy or soon after you have your baby."
What's at risk
While many babies recover from the disease, some don't, like Katie Van Turnhout's baby. "Our daughter Callie was too young for her vaccines and somehow caught the illness, and after three days of fighting, her little body gave out and we lost her," she shared. "She was only 37 days old."
She urges all adults to get a Tdap booster — whether or not they have children of their own. "I think the main things for parents to know and understand are that pertussis is a highly contagious disease that can be fatal to infants and that getting an adult Tdap booster is the single best thing you can do to help stop the spread of the disease."
To learn more about symptoms and how to prevent pertussis, please visit www.SoundsOfPertussis.com.
More on pertussis
Pertussis: Is your baby at risk for whooping cough?
Protect Baby from pertussis
What parents of newborns need to know about whooping cough