Feeding Tips
Breast milk or formula? Which solids and when? Our guide answers your questions about what to feed your baby from birth to age 1.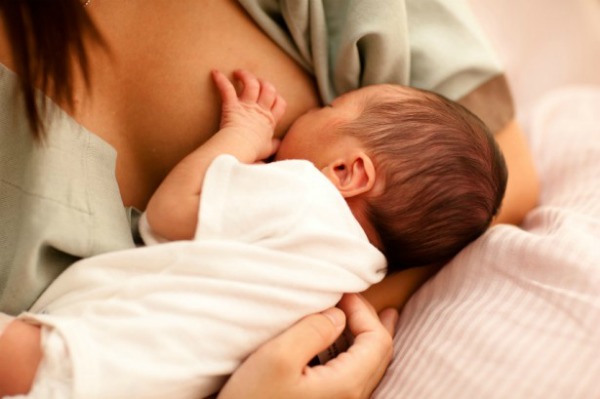 Contributed by Gayle Sato
Why breast is best
It's as simple as this: The best way to feed your baby is to breastfeed. The benefits are numerous, chief among them being that breastfed babies are healthier — in infancy and later in life — than their formula-fed counterparts.
One of the most remarkable features of breast milk is that its composition evolves in concert with your baby's needs. For the first few days after childbirth, your body produces colostrum, the earliest form of breast milk. Not only is it brimming with antibodies, but it's also high in protein and low in sugar and fat, which makes it easier for your newborn to digest. Following colostrum, your body begins to produce mature milk, which has more protein, fat and sugar to fuel your baby's growth and development.
Formula facts

Benefits aside, some women simply cannot breastfeed. Others choose not to, or perhaps breastfeed for only a short time. For them, formula is the answer.
Cow's milk, soy or hypoallergenic?
Iron-fortified cow's milk formula is a common first choice for many parents. Some parents fear giving their babies milk-based formula because of the risk of an allergic reaction, but only 3 to 4 percent of infants have a true milk allergy. If you do have a family history, let your pediatrician know so she can recommend the best formula for your baby.
Surprisingly, soy formula may not be a good alternative for babies with milk allergy. However, soy-based formula is a fine choice for parents who object to using animal products or for the rare infant with galactosemia, an inability to digest the milk sugar galactose. Powdered, ready-to-feed or concentrated?
Powdered, ready-to-feed and concentrated liquid formulas are nutritionally interchangeable.
Parents of frequent and exclusive bottle-feeders can save money by mixing their own powdered formula.
If your baby only takes an occasional bottle, ready-to-feed formula may suit your needs, although it's more expensive than powdered formula. Also, once opened, it must be used within 48 hours.
If you opt for concentrated formula, follow the directions exactly when preparing.
The scoop on solids
Parents look forward to spoon-feeding with astronomic levels of anticipation. There's no shortage of unsolicited (and usually contradictory) advice out there but very little in the way of hard and fast rules. Here's how to begin.
Don't start too soon
The American Academy of Pediatrics recommends breastfeeding as the sole source of nutrition for the first six months, but some experts believe that a baby's system is ready for solids at the age of about 4 months. Starting solids at 6 months is preferable, but if your 4- or 5-month-old shows a keen interest in food or still seems hungry after a feeding, ask your doctor about starting solids sooner.
Begin slowly
Feeding your baby solids once or twice a day is plenty in the beginning; increase to three feedings by about 8 months of age. Rice cereal is a good first choice, but you also can start with a cooked or mashed fruit or vegetable.
Keep it interesting
Add new tastes and textures to your baby's diet as she hones her eating skills. Follow these guidelines on when to introduce certain foods:
6 months: Baby cereals and pureed fruits and vegetables
7 months: Jarred baby-food meat
8 months: Mashed table foods, such as well-baked sweet potatoes; soft, ripe fruits; well-cooked carrots
9 months: Soft, diced finger foods (try well-cooked green beans and broccoli spears, bananas, pancakes and soft fusilli or elbow pasta)
1 year: Whole eggs (as long as there is no family history of egg allergy)
After 1 year: Cheese and whole milk
By her first birthday, your tiny, milk-drunk newborn will be transformed into a competent eater, ruler of the highchair and ready for cake. Which is, of course, a whole new challenge.
More about feeding
When Baby doesn't like solid food
Top 5 reasons women do not nurse their babies
Breastfeeding baby: On schedule or on demand