Celebrating her first birthday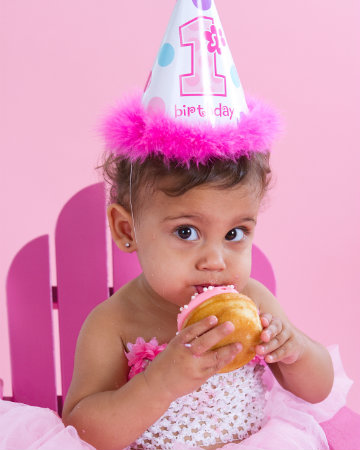 5 fab first birthday party themes
Planning a first birthday party for your baby girl is a great way to get in touch with your creative side. Whether the party is a small family get-together or a big social gathering, you'll have a blast putting together the invitations, decorations and treats.
Make sure your camera is charged and ready –- you'll want to capture the precious memories as your baby celebrates her first year.
Pinwheel birthday party
Pamper your princess with a pastel pinwheel party! Once you see how easy it is to make a pinwheel, you just might go a little pinwheel crazy. Attach them to long sticks and display in vases, turn them into a festive wreath, pop them in cakes or cupcakes or hang them from an embroidery hoop as a mobile. Get older siblings involved by having them help assemble pinwheels from a pinwheel kit (Party City, $7). What to eat? Turkey and cheese pinwheels (meat and cheese rolled up in a tortilla and sliced) of course!
Strawberry birthday party
Your little girl is naturally sweet, so plan her first birthday party around a plump, ripe strawberry. Choose a color palette of turquoise and red or pink and green. A touch of gingham on tablecloths and basket liners adds a little farm flair. Serve mini strawberry milkshakes or strawberry lemonade in clear cups or jars with striped paper straws. Individual strawberry pies are the perfect sweet treat. We love the idea from the Passion for Parties blog of sending guests home with soft strawberry pillows and small strawberry plants potted in aluminum cans. Or take a "strawberry shortcut" by ordering a Strawberry Shortcake party kit (Party City, $30).
Pink birthday party
A birthday party centered on a single color may seem quite simple. But when that color is pink and there's a one-year old girl to celebrate, we say go big! Set the tone with these 1st Birthday Pink Jumbo Invitations (Party City, $9). Dress your sweet girl to a flouncy pink tutu and over the top Birthday Girl Party Hat (Party City, $10). Hang pink garlands, tissue poufs and use plenty of pink balloons -- we love the jumbo round ones, which look beautiful in photos.
Rainbow birthday party
Celebrate your little sunshine with a rainbow party, a theme that's been all the rage this year. Serve a fruit rainbow platter or stack fruit in rainbow color order on skewers. Cut cream-cheese filled bagels in half for rainbow-shaped sandwiches. Pop rainbow-colored striped paper straws into drinks. Create a dessert masterpiece by baking a rainbow layer cake -- each layer a different color of the rainbow. Finally, borrow blogger Design Mom's idea of surrounding baby with a balloon rainbow and giving her a rainbow colored wood stacking toy as a photo prop.
Minnie Mouse birthday party
What's pink and black and sweet all over? A Minnie Mouse first birthday party, of course! We found some adorable ways to subtly incorporate the iconic mouse ears into party food and decor. First, we love these Minnie Mouse pudding cups you can make by filling small pudding cups with chocolate pudding and tucking in mini sandwich cookies as mouse ears. Add a pink paper bow to the cup and wait for your guests to squeal about the cuteness. Send everyone home with fabric tote bags you've stamped with pink paint (using an onion!) in the shape of Minnie's head and ears. Get instructions for these and more fun Minnie Mouse 1st Birthday ideas on the Disney Baby website.
Quick tip
Turn thank you cards into something special by including a photo of the birthday girl playing with or wearing her gift!
More first birthday party ideas
Perfect baby girl first birthday dress
First birthday planning
Plan an amazing first birthday party