He's a big boy now!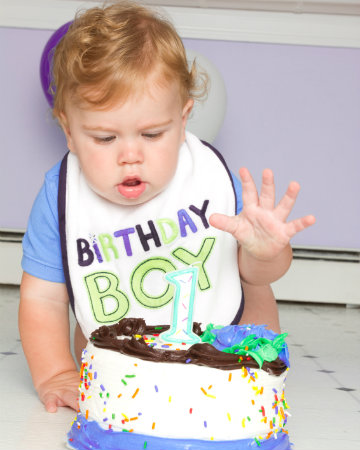 Fun first birthday party themes
Planning a first birthday party for your big boy? Here are five fun themes, along with tons of tips and ideas to celebrate your sweet boy in style!
Enjoy your little one's first birthday!
Monkey birthday party
Chances are, you've referred to your little guy as a "monkey" at least once during the past year. Maybe it's because he gobbles up his bananas like nobody's business or climbs up furniture like a jungle critter. Celebrate his monkey business with a monkey birthday party! Serve banana milkshakes, freeze dried banana snacks and chocolate dipped bananas. Set up a banana split bar for guests to build their own treats. For a classic look, go with a sock monkey theme and use a color palette of brown, white and red.
Monster birthday party
For a brightly colored first birthday that's a whole lot of fun, try a monster-themed party. Turn cupcakes into a tray full of monster faces. Play pin the eyeball on the monster. Print out funny monster mouths and tape them to long sticks. Display them in a cup and invite guests to pose for goofy photos holding up their monster fangs. Glue googly eyes onto paper cups (Party City, $3 for 20) to serve your monster brew. Give small stuffed monsters as party favors. Check out this monster party on Hostess with the Mostess for even more fun monster party ideas.
Mustache birthday party
Throw your "little man" a mustache bash and let the laughs begin -- because what's funnier than a baby with a mustache? Thanks to the mustache craze, it's easy to find everything from mustache onesies to plastic mustaches. Get creative and top cupcakes with chocolate mustaches. Slip paper mustaches onto bendy straws, so guests will look like they have a handlebar 'stache when they wrap their lips for a sip. Set up a photo booth and supply mustaches on sticks to use as photo props. A mustache-shaped cookie cutter can be used for cookies, sandwiches or even cheese slices.
Goldfish birthday party
A goldfish birthday party is a fun way to celebrate a little boy who loves fish, adores the water or just likes snacking on those crunchy orange crackers! Go with a blue and orange color theme for decorations, snacks and treats. Turn orange balloons into hanging goldfish by taping on a triangle paper fin and two big eyes. Serve sandwiches on goldfish-shaped sandwich bread and set out paper cups filled with goldfish crackers for guests to snack on. If you want some fishy friends to keep after the party's over, buy real goldfish and display them as centerpieces in round fishbowls.
Cowboy birthday party
Your little munchkin may not be old enough to rope or ride, but he'd sure look cute decked out in a cowboy hat, jeans and bandana around his neck. Set out baskets of straw sheriff's hats (Party City, $4)  and bandanas (Party City, $3) for all the little dudes and dudettes. As for grub, make things easy on yourself and pick up barbecue take-out. Serve it up with red gingham party plates, paper cups, napkins and table covers. Give bags of kid-friendly trail mix as party favors.
Quick tip
Head to Pinterest and type your favorite party theme into the search box. You'll find tons of pretty party inspiration!
More first birthday party ideas
Plan an easy first birthday bash
Birthday in a box
First birthday baby outfits