Instill a lifelong love of reading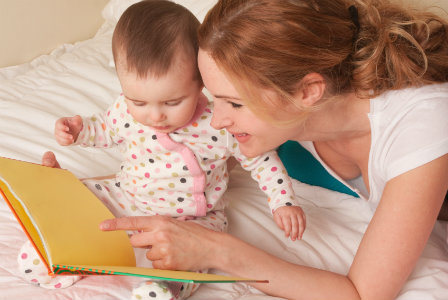 The nursery is ready, onesies are washed and folded, and your hospital bag is packed and ready to go. As you prepare for baby's arrival, make sure you don't forget about one of the most enriching gifts you can give your child -- a love of reading.
Best books for baby
Here are some tips and book recommendations to help you build a library of books for your new baby.
Build a foundation
Get your baby hooked on books and you'll be building a foundation for a lifetime of learning. A 2011 study conducted by the U.S. Department of Education showed that babies who were read to and visited the library more frequently from ages zero to 24 months scored higher in school assessments. Beyond the test scores, turning kids on to books opens up a whole world of learning and adventure that simply can't be found in a video game or on TV.
Tips on choosing books for baby
Zero to three months: Board books with large pictures and few words are ideal for newborns. Children's book expert and bookstore owner Sheilah Egan recommends reading rhythmic and rhyming books to babies three months old and younger. She also advises choosing books with lots of faces –- particularly other baby faces, which newborns love to see. High contrast images, lots of shapes and uncluttered design are also key, says Egan. Disney Baby: Play Baby Play is a great choice for babies this age.
Three to six months: At this age, babies' brains are like little sponges, eager to soak up the world around them. Choose books with pictures and words naming everyday objects. Snuggle up with baby and point and name the animals, colors and shapes. Books with texture and sound also help baby learn by exploring with her senses. First One Hundred Words is sure to hold baby's attention with its bright uncluttered design and simple words.
Six to 12 months: Books with repetition and rhyme appeal to babies this age because they like the predictability. Nursery rhymes and books like Goodnight Moon are sure to become favorites. Interactive books like Pat the Bunny incorporate play with reading, stimulating your curious little one. Books with mirrors and flaps also make learning lots of fun for both of you.
Where to get books
Book-themed baby shower -- If you already have the baby essentials, consider having a book-themed baby shower. This is an easy way to build your baby's library. The hostess can ask guests to bring a favorite book as a gift.
Shop online --  Skip the drive across town and shop online for baby books. Read reviews from other parents to help inform your selections.
Consignment or thrift stores -- Great deals and an ever-changing selection of books can be found at consignment stores, thrift stores or even garage sales and estate sales. Think of it as a treasure hunt!
Library -- Expose baby to a variety of books by checking out books from the library on a regular basis. While you're there, grab a schedule of children's programs like story time or music classes. These free activities are a great way to meet other moms and give baby a chance to interact with other little ones.
Expert tip
Children's book expert Kathleen Odean recommends choosing books you are excited about or your child is excited about. "It is hard to read a book you don't enjoy," says Odean, "especially a long one."
More on reading to baby
Choose perfect baby books
Must-have children's books: an age by age guide
Why babies love books