Reading with Baby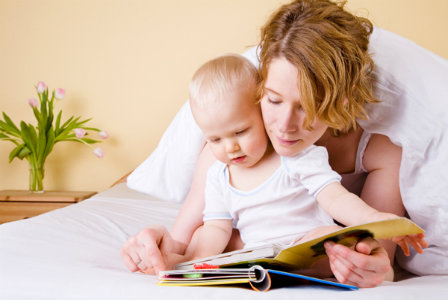 Whether you're building baby's library or simply looking for a stellar baby shower gift, these five favorite baby books are a great place to start. No baby's bookshelf is complete without these beloved books.
Must-have baby books
Goodnight Moon
When it comes to bedtime books, Goodnight Moon is the gold standard. A predictable bedtime routine helps baby get to sleep and in many homes the routine goes like this: bath, milk, Goodnight Moon, lullaby, bed. Goodnight Moon uses repetition and rhyme to say goodnight to all the objects in a baby's nursery: from a comb to a brush to a bowl full of mush. If you find yourself reciting this book to yourself at random times of day, do not be alarmed. Memorizing Goodnight Moon is a rite of passage for new parents.
To buy: Goodnight Moon by Margaret Wise Brown (Amazon, $11)
Disney Baby: Nursery Rhymes
Introduce baby to classic nursery rhymes like "Hickory Dickory Dock," "This Little Piggy," and "Pat-a-Cake" in this sturdy board book from Disney. Babies will love the oversize flaps to lift and discover what's hiding underneath. Disney Baby: Nursery Rhymes is filled with photos of babies -- something all newborns love -- as well as colorful images of favorite Disney characters.
To buy: Disney Baby: Nursery Rhymes (Amazon, $7)
Pat the Bunny
It takes a special book to remain a favorite of parents and babies for over 70 years. Bond with your baby by reading Pat the Bunny, a classic book written by a mother for her child in 1940. Have fun introducing baby to the interactive pages you probably remember from when you were young -- patting bunny's fur, feeling daddy's scratchy beard, smelling the flowers, looking in a mirror, playing peek-a-boo, reading a miniature book, poking your finger through mommy's ring and waving bye-bye.
To buy: Pat the Bunny by Dorothy Kunhardt (Amazon, $10)
The Going to Bed Book
Sandra Boynton is known for her sweet and silly children's books, and The Going to Bed Book is no exception. With simple phrasing and rhyme, this book shows how a group of animals go about the business of getting ready for bed. You're sure to get plenty of giggles as you tell the story of the big rhino, tiny rabbit and all their friends picking out their pajamas, brushing teeth and rocking to sleep. If your baby likes The Going to Bed Book, he'll probably also love The Belly Button Book, another silly rhyming board book written by Boynton.
To buy: The Going to Bed Book by Sandra Boynton (Amazon, $6)
Richard Scarry's Best Word Book Ever
This Giant Golden Book is filled with scenes from everyday life that help you introduce baby to the world around him. Use Richard Scarry's Best Word Book Ever to show baby things like silverware, plates, muffins and eggs as one of the featured characters, Kenny Bear, sits down to breakfast. Watch baby's eyes widen as you point out colors, toys, tools and airplanes. As your tot gets older, play an interactive game where you ask him to find and point out objects on the page.
To buy: Richard Scarry's Best Word Book Ever by Richard Scarry (Amazon, $10)
Do you have a favorite baby book? Share the title in the comments section below!
More tips on reading to baby
Must-have children's books: an age by age guide
Funny books for babby, toddler and beyond
Best bedtime stories for babies and toddlers