Baby Signing Is Both Fun And Easy
Are you curious about signing with your baby? We're here to tell you that it's fun, easy and super useful. Read on for tips and tricks from the co-founder of BabyFirst!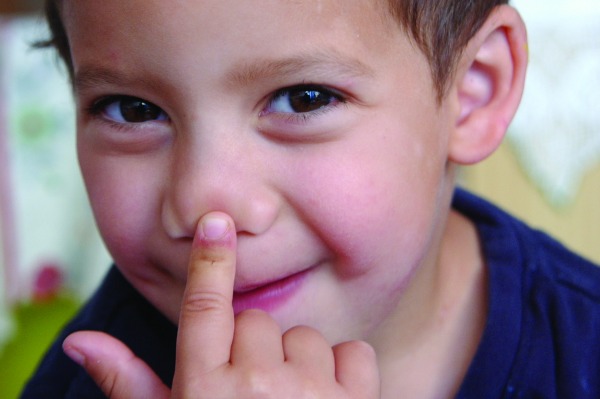 Sharon Rechter, co-founder of BabyFirst (the first cable channel devoted exclusively to babies and toddlers), sat down with Pregnancy & Baby to discuss how easy and fun it is to incorporate sign language into your natural communication with your baby.
How BabyFirst began
P&B: Tell me a little bit about yourself.
Sharon: I am a mother of two amazing girls, Noa (5) and Neta (3), and am also parenting two dogs and a very loud, yet cute parrot. Our home is very open and on an average day, we have at least five kids running around. There is nothing like the laughter of children to make my day.
Though I have a law and business degree, I have always seen myself as an entrepreneur. From a very early age, I've tried to look at the world with open eyes and ask myself what I can do to make things better. Community involvement, personal responsibility and the notion that you can make a difference are some of the core values I try to instill in my daughters.
P&B: Where did BabyFirst come from?
Sharon: The idea of BabyFirst came to my partner and me back in 2004 when we attended a friend's dinner party. Our mutual friends, who happened to be new parents, arrived with their baby in tow, a couple of diapers, two bottles and about five baby DVDs. We were shocked to learn how difficult it was for them to find age-appropriate and educational media for their kids. We then set out on a journey to create BabyFirst and make educational TV for tots accessible to everyone. We wanted to offer solid, developmentally appropriate content that was created with the help of educational experts — something we found available DVDs to be lacking.
P&B: What sort of programming does BabyFirst offer?
Sharon: BabyFirst offers programming like nothing else on the market. All of our shows are focused on the major areas of child development — numbers, vocabulary, art, music and social development. We have animation, live action and puppet-based shows. The content is fun, bright, colorful and musical. We make sure everything is completely safe and wholesome, too.
P&B: How does it differ from other television meant for young children?
Sharon: BabyFirst is completely different than other children's networks. Our programming and approach is for babies and toddlers — which is dramatically different than what is available on preschool channels. The shows found on our network are short — just two to five minutes long to accommodate the limited attention span of young children. The music is soft and gentle. It's the most safe and clean content you can find.
Baby sign language is easy
P&B: Tell me about the baby sign language program.
Sharon: "I Can Sign" is a show we created with a sign language instructor to help parents communicate with their children long before they can speak words. The live action show features an introduction to useful words in sign language and repeats them as young children demonstrate the signs.
P&B: How hard is it to teach sign language to babies?
Sharon: Teaching sign language is actually much easier than parents may think. Children learn very quickly and can learn many signs. Following the guidelines in the BabyFirst show, children can learn extremely quickly in just a few days.
The University of Montevallo (ranked No. 1 by U.S. News in Education) voluntarily oversaw a research study to validate the effectiveness of the "I Can Sign" show. The study consisted of children 3-1/2 years of age and younger, who were divided into two groups and received instruction in American Sign Language, to which none of the kids had any prior exposure.
The first group was taught in a traditional teacher-classroom setting, while the second group received lessons through interactive television, which included subtitles prompting parents to perform specific tasks with their children as they watched. At the conclusion of the study, the interactive television group showed significantly greater proficiency in the skills they acquired.
Language development bonus
P&B: Did you sign with your children?
Sharon: I did. I found it to be an amazing way to interact and nurture a bond with my girls before they could even speak. In fact, we still use it once in awhile when we would like to communicate from a distance or without others noticing. The latest example occurred at my daughter's ballet recital as she was standing on stage, slightly nervous with it being her first time, and I was looking at her from the audience. I signed to her that I loved her. She signed back and smiled and she knew that I understood it made her feel better.
P&B: Did you find it hindered or helped their language development?
Sharon: Yes, sign language is just like any other language and just as teaching your child a second spoken language develops their communication skills and develops your brain, sign language will give you similar benefits. I found that using the BabyFirst show, "I Can Sign," in addition to working with them individually made it fun and easy.
P&B: What would you tell a parent whose child doesn't seem to be picking up signs?
Sharon: Our educational advisor, Dr. Todd Eller, shares a few pointers: When you know your child is hungry, move their hands to sign "hungry" and then feed them one bite of food. Repeat this again and again until your child does this on his or her own. If you feel that your child does not understand, your child may not be seeing or hearing well. In that event, be sure to have your child checked by a pediatrician.
Television for under-twos
P&B: What do you say about the American Academy of Pediatrics' recommendation that children under two should not watch television?
Sharon: I invite them to watch BabyFirst and reevaluate. Our studies, especially those concerning sign language which can be easily measured, indicated that children can learn from TV. The question of what they learn depends on what's in the box.
What I mean is that it's the content that matters most to us at BabyFirst. If content is done right — if it's an appropriate pace, educational and repetitive, and without any violence — children can learn and have a very positive experience. We also found that through our unique tool of parenting subtitles, parents are using BabyFirst as a conversation topic with their children. They're using it as an instrument to interact and bond with their children.
Media, in my opinion, is like everything else in life that should be enjoyed, yet used in moderation. In today's digital age, media is part of everyone's daily lives. According to the Kaiser Family Foundation research, 95 percent of American babies are watching TV, so in my mind, the question parents should focus on is not should kids watch TV, but rather, what are they watching and how much.
P&B: Where can we watch BabyFirst?
Sharon: You can find BabyFirst on DIRECTV and Dish Network nationwide and in many cities on Comcast XFINITY TV. We also have expanded our content to mobile and tablet apps, an interactive website and movies which will be in theaters later this year.
More on baby sign language
Baby sign language
Benefits of baby sign language
Signing with your baby?