Making Playtime A Priority
When babies play, they learn about the world around them and grow physically, emotionally and mentally. When babies play together, they learn how to interact with others and how to develop and maintain relationships.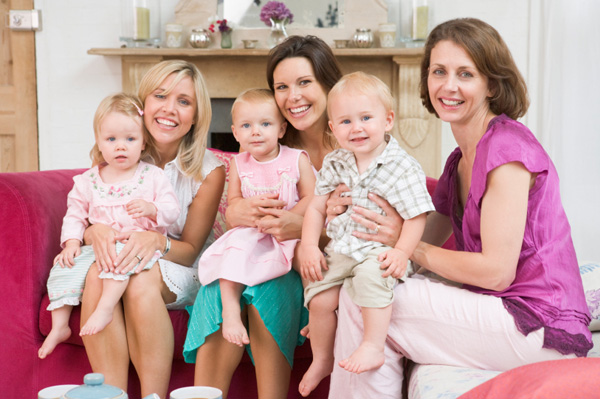 Practice makes perfect
Creating consistent co-play opportunities is a wonderful gift you can give to your child. During this time, your little one can observe and eventually begin to understand some of the basic rules for positive interaction with others. During co-play, you can work with your child to keep aggressive behavior, which is completely normal, under control. Additionally, the American Academy of Pediatrics (AAP) recommends that children play with other children close to their own age because they learn how to cooperate with one another, how to solve problems and how to know when to lead and when to follow. It takes time, though, for kids to learn how to play well with their peers, so practice is required. Not only will it benefit them during playtime with other children, but it will help them to make and keep friends throughout their lives.
Set the scene
A nice way to ensure that your little one has plenty of chances to play with other children is to make sure there are plenty of places that are safe for kids to explore and interact with each other. Here are several recommendations from AAP to help set the scene for valuable playtime with others:
Dedicate an area in your home that is completely baby-proofed and has enough toys or activities for several children. Remember that babies and toddlers may play around each other, rather than together. It's all part of the learning and development process!
Join a playgroup. Try a "Mommy and Me" gym class, take your baby to story time at the local library or sign up for swim lessons at your local pool. Any one of these regularly scheduled activities with other children will provide an entertaining and educational outlet for your favorite little guy or girl.
Go to the park whenever possible. Take advantage of free time and sunshine by taking your baby or toddler to a park near you. Even if your child is too little to play on the jungle gym, there are still plenty of ways to have fun and interact with others. Try the baby swing, playing in the sand or climbing up and down a slide.
No matter where you are or who your baby is with, it's important to pay attention to your little one as she plays. Even if an area seems completely baby-proofed, kids have a knack for finding any potential trouble spots. Also, as children become tired and hungry, they may begin to act out aggressively, become easily frustrated or begin to withdraw. All good signs that it's time to take a break from playtime. After all, it's hard work learning so much in such a short period of time!
More articles and insights about playtime
Smart newborn playtime
How to play with your baby
Parent and child playtime helps shape gender roles