Read These Bottle Basics To Help You To Get Ready For Mommyhood.
Preparing the home for baby is an exciting, joyous, overwhelming and sometimes stressful time. Luckily, getting a good car seat, a bassinet, diapers, wipes, bottles and a few bottle feeding accessories will cover the major items for the transition from hospital to home. Feeding baby is a special bonding time for you and baby, but it can also come with some anxiety - whether you are breastfeeding, bottle feeding or both. Here are a few bottle basics to help you to get ready for mommyhood.
By: Christy Pogorelac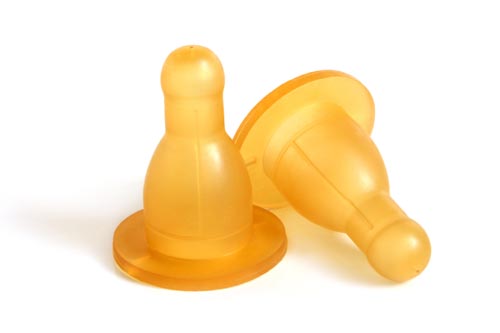 As you are preparing to bottle feed baby expressed breast milk or formula, there are several essential items that you will need to make it through each feeding with ease. Having a few things handy ahead of time will ultimately leave you with time to concentrate on what's really important: Spending time getting to know the newest addition to your family.
Six to eight bottles
Choosing the right bottle for your baby can be difficult. Bottles are available in plastic and glass materials, come with silicone or latex nipples and come in wide and narrow sizes. When determining what type of bottle to buy, remember these tips.
Latex nipples do not tend to last as long as silicone.
Look for fully-vented bottles to help reduce colic and gas.
If you're not sure which type of bottle is best for your baby, then buy several and let baby decide. Even at just a few days old, your newborn's personality and preferences will begin to emerge.
Replacement nipples
Most bottles come with a nipple that has a slow flow, and you will not need to switch out the nipples to a faster flow until your baby is several months old and begins to work harder to drink breast milk or formula faster.
Burp cloths
Make sure you have six to 12 burp cloths, cloth diapers or receiving blankets on hand to help protect your clothes from the inevitable spit-ups that come when burping your baby.
Bottle brush
A bottle brush is an essential cleaning tool for bottle feeding. Keep a couple on hand and look for ones that come with a nipple brush as well.
Nice but not necessary
There are a few additional items that can make life easier when it comes to cleaning, storing and transporting bottles. A dishwashing basket is definitely a time-saver, and most bottles are safe to wash in the top rack of the dishwasher. A bottle warmer is also handy, if you have the counter space. Additionally, you may want to consider purchasing a microwave or electric steam sterilizer, a formula mixing pitcher and a bottle tote. All are convenient items that are not must-haves but certainly come in handy.
More ideas and advice to help prepare for baby
12 Ways to prepare your home for baby
New mom guide: The good, the bad and the ugly
How to determine your parenting style before the baby arrives