New Research Finds That Babies Exposed To A Dog Or Cat During His First Year Of Life May Have A Reduced Chance Of Developing Pet Allergies Later In Life.
To protect against allergies, get your baby a dog or cat!
By: Laura Willard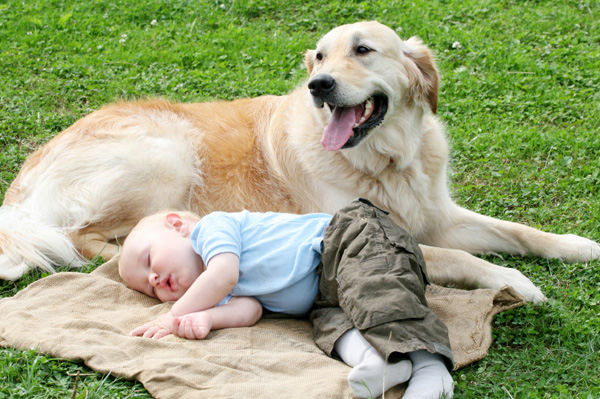 Despite some parents' worries that having the family dog or cat around their new baby could cause allergies, research shows that early pet exposure might actually help reduce the risk of pet allergies later in life.
The results of a study that spanned 18 years are in and things are looking good for Fifi and Fido! The study looked at 565 individuals, from birth until 18-years-old. Researchers concluded that exposure to cats and dogs during a baby's first year of life reduced his or her risk of pet allergies later in life.
Between 1987 and 1987, researchers in Detroit recruited expectant moms. They then followed their children for 18 years, keeping track of the kids' exposure to dogs and cats each year.
An odd and interesting finding was that babies born via c-section experienced an even greater benefit of being exposed to a family pet during the first year of life.
The results of this study both support and conflict with other studies. For example, Dr. Tolly Epstein, assistant professor of immunology at the University of Cincinnati, conducted research on children and exposure to pets and published his finding in 2010. He concluded that exposing young children to dogs can reduce allergies, but the same doesn't occur with cats.
The bottom line is that if you have a dog or cat (or you'd like a family pet) and you're expecting a baby, as long as you've addressed safety issues, there's no reason not to make a pet a part of your family. Your child probably isn't more likely to have pet allergies later in life from early exposure to a family dog or cat. If anything, she might be less likely to have pet allergies!
Read more about babies and pets
Multiple pets may decrease children's allergy risk
Preparing your pets for baby
Jealous pets