Baby Sleep Positioners Are Unsafe, According To The Consumer Product Safety Commission (CPSC) And Food And Drug Administration (FDA). The Sleep Positioners Feature Side Wedges To Prevent Babies From Rolling Over Onto Their Stomachs, However There Ha
Baby sleep positioners are unsafe and can result in infant death, warn both the Consumer Product Safety Commission (CPSC) and Food and Drug Administration (FDA). The sleep positioners feature side wedges to prevent babies from rolling over, however there have been dozens of infant deaths of babies between the ages of one and four months due to suffocation.
Kim Grundy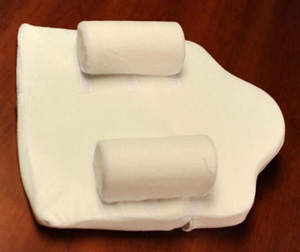 Over the past 13 years, there have been 12 infant deaths as a result of sleep positioners. The babies suffocate from getting in an unsafe position when rolling from side to stomach or they become trapped and suffocated between the side of the crib/bassinet and the sleep positioner.
"We urge parents and caregivers to take our warning seriously and stop using these sleep positioners so that children can have a safer sleep,"  Inez Tenenbaum, the CPSC chairwomen, told AFP News.
Suffocation risk
Many parents use these baby sleep positioners to keep babies sleeping on their backs, which experts say prevents Sudden Infant Death Syndrome (SIDS).  The CPSC is now saying these positioners can cause babies to end up in unsafe positions and they have not seen any scientific evidence showing these positioners prevent SIDS.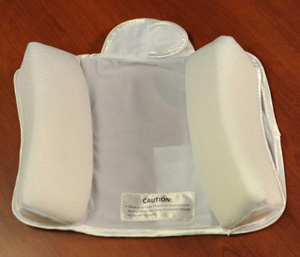 "To date, there is no scientifically sound evidence that infant sleep positioners prevent SIDS," said Dr. Joshua Sharfstein, FDA Principal Deputy Commissioner and a pediatrician. "We want to make sure parents, health care professionals, and childcare providers understand the potential risk of suffocation and stop using infant sleep positioners."
There are two types of sleep positioners, flat with side wedges (pictured, bottom) and inclined with side wedges (pictured, top).
Tips for parents
The CPSC and the FDA have put out these guidelines for parents:
* STOP using sleep positioners. Using a positioner to hold an infant on his or her back or side for sleep is dangerous and unnecessary.
* NEVER put pillows, infant sleep positioners, comforters, or quilts under a baby or in a crib.
* ALWAYS place an infant on his or her back at night and during nap time. To reduce the risk of SIDS, the American Academy of Pediatrics recommends placing infants to sleep on their backs and not their sides.
More tips on preventing SIDS:
-- 7 Ways to reduce the risk of SIDS
-- Bed sharing with siblings and soft bedding increases SIDS risk
-- Rise in SIDS cases involving infants that sleep with parent on sofa