How Can You Stop Or Relieve Teething Pain In Babies? When It Comes To Your Baby, Everything Within Reach Seems To End Up In His Mouth. He'S Gnawing On Toys, His Toes, And Even On You; But, Is It Tactile Learning Or A Sign Of Teeth Looming Underneat
How can you stop or relieve teething pain in babies -- and what are the signs baby is teething? When it comes to your baby, everything within reach seems to end up in his mouth. He's gnawing on toys, his toes, and even on you; but, is it tactile learning or a sign of teeth looming underneath those pink gums? A new tooth likely equals teething pain, but you may be able to help your little guy through the discomfort. Learn more about how to handle teething pain in babies here.
Michelle Maffei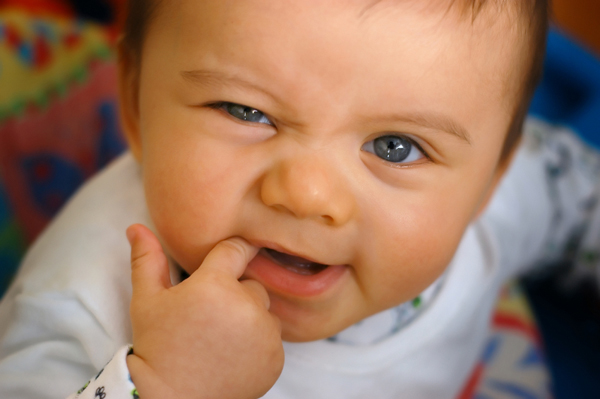 Signs of teething
When will your baby start teething? According to Nelson's Textbook of Pediatrics, you may spot some pearly whites in your sweet pea's choppers between five and seven months of age, with the bottom teeth typically making an appearance before the top ones.
Although teething is different for each baby, with the pain level and length of time it takes for a tooth to make its appearance varied, many parents recognize the 6 following signs:
Irritability
Biting and gnawing
Gum swelling
Chin rash
Disrupted sleeping pattern
Cold-like symptoms, drooling, diarrhea, or low-grade fever - Although these teething symptoms are up for debate, some swear that these symptoms are a sign of teeth to come. However, if any symptoms are paired with a high fever or other signs of illness, contact your pediatrician for his or her opinion.
Teething remedies
Although the first teeth typically appear during infancy, the teething pain train doesn't stop there. "From ages six-months to three years, children may have tender gums when teeth begin to grow in," says John R. Liu, DDS, President of the American Academy of Pediatric Dentistry. So, what can you do to help handle Junior's teething pain from his first baby tooth to the last?
Despite the old practice of rubbing alcohol on the gums of a teething baby, no amount of alcohol should be given to your bundle of joy. However, here are some other remedies that may help reduce the irritation your honey pie has in his mouth:
"The American Academy of Pediatric Dentistry (AAPD) recommends parents use a clean teething ring, a chilled teething ring or cold wet washcloth for teething babies," advises Dr. Liu.
Chilled pacifier - Similar to a chilled teething ring, stock the fridge or freezer with binkies and swap them out when teething discomfort makes an appearance.
Gum massage – Massaging his inflamed gums with your clean finger may be just what the doctor ordered to counteract the pressure from the tooth below.
Cold foods – For the youngest teethers, mesh baby-safe feeders filled with age-appropriate frozen fruit can offer relief without the risk of choking. If your tot is old enough, cold foods like popsicles may soothe sore gums.
Over-the-counter medicine - Baby Tylenol or Motrin (check with a pharmacist for the correct dosage), teething gel, and homeopathic teething tablets may give your darling the relief he needs to get some rest when teething pain prevails.
Acupressure - "Massage your baby's toes, paying extra attention to joints of the toes," offers Monika Benoit BA, CH, HHP, Holistic Health Practitioner. "According to acupressure theory, this stimulates energy meridians that directly connect to the mouth and teeth, providing drug-free pain relief for your baby's sore gums."
Once your angel's pearly whites do make an appearance, it is important to take proper care from the start. "Parents should ensure that they "Get it Done in Year One," meaning taking their infant to visit the pediatric dentist by their first birthday," advises Dr. Liu. "The pediatric dentist…can provide advice on teething that is best for each individual child." And that's something you can both smile about!
More tips on babies and teething:
-- Breastfeeding: Teething and biting
-- How to soothe teething pain
-- Teething pain: Helping your baby sleep