Those Of Us With Young Children Know That Time Does Fly, Especially When It Comes To Sending Them Off To Daycare Or Preschool. Before You Know It, Your Little Ones Are Socializing, Perfecting Motor Skills And Waving Goodbye Without A Second Thought.
Find out how to start preparing your child for preschool or daycare to make their first day away from you a happy one. Those of us with young children know that time does fly, especially when it comes to sending them off to daycare or preschool. Before you know it, your little ones are socializing, perfecting motor skills and waving goodbye without a second thought. But, before the days of bliss come the days of transition.
Tiernan McKay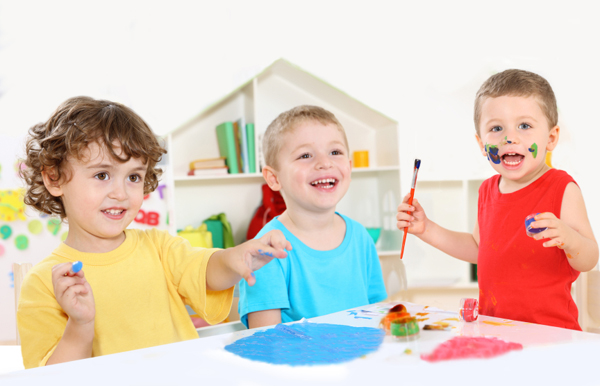 Before you send your precious one off to daycare or preschool, follow some tips from the experts to help ease both you and your little tike into an exciting new world.
Social butterfly
At this point in their young lives, school really is fun! It's about meeting new friends, exploring their world and learning to navigate classroom dynamics. "Children need to be socially and emotionally ready for school," says Mandy Frayer, Director of Curriculum and Staff Development at Smithville Montessori Academy in Smithville, Missouri. "Children need to be able to cooperate with their peers in group situations and activities."
Join a play group or have a regular play date with some neighborhood friends and use that opportunity to encourage interaction and successful conflict resolution. "Children also need to be able to control their impulses and be able to relate to non-family authority figures," says Frayer.
Curiosity is key
When children are curious, learning is an adventure. While some kids are naturally inquisitive, others need a little inspiration. "Our children need to be curious about the world, interested in how things work and know how to creatively approach problems," says Frayer. "If your child asks you a question like, 'Do mosquitoes sleep?', resist the urge to answer right away. Instead try asking them, 'What do you think?' or 'Where do you think we could find the answer to that question?'. By doing this, you are encouraging them to think for themselves and building a child's self-esteem."
The power of words
Reading together is one of the most effective and important activities you can do to help prepare your child for daycare of preschool. Spending time flipping the pages helps your little one focus, exercise her imagination and learn about the world. "Young children love being read to and looking at picture books," says Frayer. "Encourage their language development by asking them to describe the pictures to you. As they get older, children enjoy turning the pages of the book as you read to them. This engages them in the story."
Frayer also suggests asking questions that encourage social and emotional development, such as "How do you think that made him feel?" or "How would you feel if something like this happened to you?"
Practice makes perfect
When children are facing the unknown, a common response is anxiety. To combat this nervous reaction, practice a typical day as many times as needed. "Rehearsal should be both verbal and physical," says Dr. Richard Horowitz, Parenting Coach and author of Peaceful Parenting: Parent Empowerment And Child Empowerment. "Since we can never be sure how much young children are really able to process cognitively repetition is essential. Parents should be talking about how much fun it is going to be when they go to pre-school, the games, toys and friends they will be able to play with and the nice teachers who will be there to help them and keep them safe."
Understand their fears
Every child is different and will approach this transition from their own unique perspective. "Some children thrive in the highly social school environment whereas others may take years to ease into a socially 'correct' choice that is not really a great match for their interior," says Annie Burnside, M.Ed., author of Soul to Soul Parenting: A Guide to Raising a Spiritually Conscious Family. "We as parents must feel for the energetic texture of our children and teach them to consciously become aware of the voice of their own soul. For it is inner resonance that is one's true compass."
Control yourself
Children are extremely intuitive and know when a parent is nervous or anxious. Even if you are having a hard time with the transition, try your best to control your emotions. "Young children sense that there is an issue with the first day of school drop-off when parent linger, cry and cannot let go themselves," says Dr. Stephanie Mihalas from The Center for Well-Being: Psychological Services for Children, Youth, and Families in Los Angeles, California. If you must, wait until your child is out of sight to break down and pull yourself together before you pick him up.
More tips for parents:
-- Affordable childcare options for baby
-- How to deal with separation anxiety
-- How to interview daycare providers
-- More articles on babysitters, nannies, daycare and preschool