Tips For A Strong Daddy-Baby Connection
When it comes to newborns, Dads may feel like Moms take the driver's seat. Encourage dad to start bonding with baby from day one. Even when a new Dad is apprehensive about how to care for his new tiny bundle of love, it's important for Dads to get in on the baby bonding action early -- and here's how.
Michelle Maffei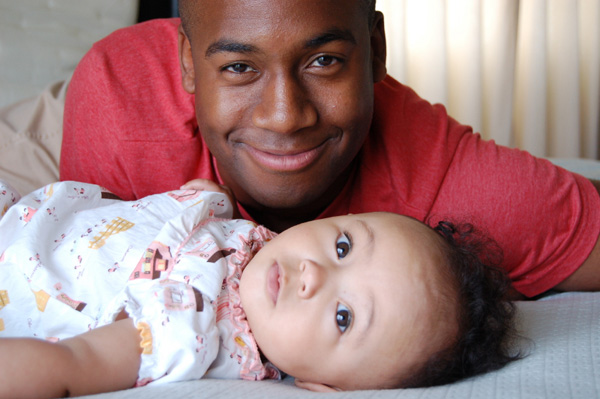 "Dads often worry that they don't know how to care for a newborn. But, research shows that men have a hormonal response to becoming fathers, which includes a natural protectiveness toward the baby," shares Dr. Laura Markham, child psychologist, ahaparenting.com. "The more time dads spend holding their new babies, the more their paternal instinct is activated, and the more comfortable they feel comforting and caring for their newborns. This is usually a transformative experience for Dad, a tremendous relief to mom, and a vital relationship for the baby."
Sometimes bonding can be as simple as the proud Papa spending a few moments alone with his newborn. Here are some tips on how Dads can bond with their baby.
Embrace skin-to-skin time
"Kangaroo care" isn't just for preterm babies. Whether Daddy sports a hairy chest or is smooth and sleek, babies benefit from the skin-to-skin contact both physically and emotionally. If Dad is the modest type, have him grab a blanket or escape to the privacy of your sweet pea's nursery once you get home.
Get hands-on with care
A baby's main means of communication is touch, so grab the baby lotion and teach Daddy how to give a baby massage. After a bath, before a nap, or anytime Junior seems fussy is a good time to get hands-on. Find out step-by-step tips on giving a baby massage here.
Try food for thought
Whether it's a midnight bottle or bellying up to the highchair, Dads can't afford to miss these precious bonding moments. Cuddling, making airplane noises, and maintaining eye contact helps your princess not only get to know Dad's face, but also helps her to identify with Daddy as a caregiver, too.
Wear your baby
Whether the carrier of choice is a sling, pouch, or wrap, "baby wearing" is an easy way for Dad to help out with caring for his sweetie pie while forming a bond. A bonus is that most babies love to be carried, making for a happier newborn.
Go splishing and splashing
Although some Dads are nervous about bathing a baby in the bathtub, moving tub time into a clean sink may make it easier and less nerve-wrecking for Daddy. Be aware that the same water safety rules still apply, but the benefits for both his back and bonding time may have him taking over bath time every day.
Dance and sing
Babies do not care whether or not her parents can carry a tune or keep the beat, so have Dad clear his throat and sway to his favorite lullaby with his darling in arms. Here's a hint that you'll want to pass on: baby songs and lullabies aren't the only songs babies love to hear, so pick your favorite ditty and get moving.
Pick up a good book
Whether it's a board book about the ABCs or the latest headlines from Wall Street, babies love to hear the sound of Daddy's voice when being read to. The repetition of a favorite book can help baby learn, but reading material isn't limited to just books; any newspaper, magazine, or latest novel is game. Check out our pick of the top bedtime stories for babies.
Take a hike
Or, a walk, that is. Daddy can head outside for a tour of the yard, or grab a stroller and talk to his newborn about the sights and sounds of the neighborhood. He'll not only get away from the distractions of the house for one-on-one bonding time, but heading outside on a nice day may also be just what the doctor ordered if your little one gets fussy.
"Fathers who take a week or more off to spend with their newborn are closer to their kid at every stage of the child's life, right up into young adulthood," advises Dr. Markham. But, whether it's a week's stretch or a few moments per day, Dads can have the confidence that they, too, can have the bonding time every baby and Daddy needs to build a strong, lasting relationship.
More tips just for dads:
- Top 10 cool diaper bags for dads
- 5 Bottle feeding tips for dads
- Study: New dads suffer from postpartum depression, too