Today's Dads Are Hands-On. They Change Diapers, Push The Stroller, Pick Their Kids Up From School, Take Them To Soccer And Push Them On The Swings At The Park. So These Dads Need To Be Prepared With The Essentials. Luckily, Men Are No Longer Forced T
Today's dads are hands-on. They change diapers, push the stroller, pick their kids up from school, take them to soccer and push them on the swings at the park. So these dads need to be prepared with the essentials. Luckily, men are no longer forced to carry around their wives' girly diaper bags. We checked out some of the coolest diaper bags on the market for dads and looked to Hollywood's most hands-on dads to see what styles they are carrying. Here are some of our favorite diaper bags for dapper dads.
Molly Cerreta Smith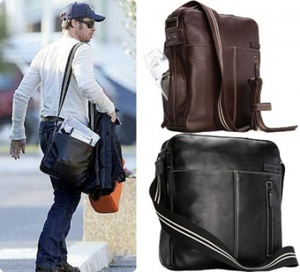 Sleek sack
Brad Pitt is a dad of six, so you know he's got to have some insight when it comes to the best diaper bag! He has been spotted wearing the Storksak unisex Jamie diaper bag ($210, pictured right) made of tough pebble cowhide. Available in black or espresso brown, this sleek sack features a padded changing mat, dual-side thermo-insulated pockets designed to keep liquids cold or warm for up to four hours, multiple internal pockets and compartments, and waterproof lining. It can even accommodate a laptop.
Fit for a king (or queen!)
Style meets function with the Queen Bee Diaper Bag from Honey by The Bumble Collection ($300). Made from full Italian cowhide leathers and adorned with 18K gold-plated signature hardware, this water resistant bag features soil-proof lining, stroller straps, changing pad, two side pockets and a zippered back pocket on the exterior, and a snaphook, two bottle pockets, and two zippered pockets on the inside. Jason Priestley has been spotted toting this sophisticated tote. Available in black or chocolate.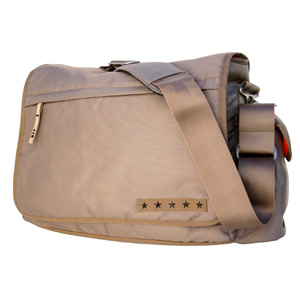 Metro messenger
The likes of Matt Damon and Jason Sehorn have been seen sporting this utilitarian-style JJB messenger bag from Ju-Ju-Be ($125, pictured right). It boasts a pocket with sunglasses case, adjustable handle with memory foam shoulder pad, removable changing pad, outside pocket for a bottle, magnetic closure, and a separate pouch that snaps into place with magnets.
Rock on
For the rocker dad in your life, the guitar-themed messenger bag from Tutti Bella ($76.95) is designed to keep him in rock-star style! Constructed of durable nylon, the bag features an ergonomic across-the-chest style designed for comfort, three exterior zip-closed pockets, elasticized bottle pocket, removable cell phone pouch, larger inner compartment with zip-closed pocket and special pouch for diapers, wet/dry pouch, changing pad, and two large elasticized slots in the back.
Manly with a pinch of pink
Even dads with daughters can carry a manly diaper bag while still representing their little ones' feminine side. Sacha Baron Cohen, dad to daughter Olive (with another on the way!), carries the chocolate brown/pink Emily tote from Jimeale ($90)which boasts two outside pockets for bottles and an outside zip pouch, adjustable straps, matching changing pad and bottle insulator, and tons of pockets inside.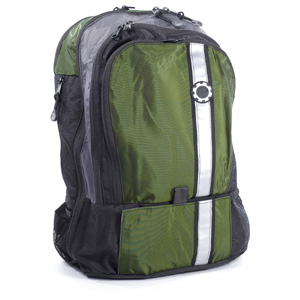 Sporty sack
For the sporty, outdoorsy dad, the DadGear retro stripe backpack diaper bag ($84, pictured right) is like a diaper bag in disguise! Constructed from polyester/nylon fabric, this durable bag encompasses large pockets to keep things organized, a convenient diaper hammock, two bottle holders that hold up to four bottles each, a changing pad and a baby wipe window for easy access.
Eco-friendly diaper bag
For the man who wants to save the planet all while tackling fatherhood, the eco-friendly Diaper Dude Green Dude diaper bag  ($92.99) is just the thing! Made from recycled water bottles, the feel-good bag (shown in khaki) features elasticized bottle pocket, multiple compartments, and a changing pad.
Scout it out
Model Gabriel Aubry, (Nahla's dad and Halle Berry's ex-boyfriend), is a fashion maven, so it's only fitting that he's been spotting toting the heathered gray Scout diaper bag from Petunia Pickle Bottom ($159, pictured below) when he's out and about with his precious daughter. This sophisticated bag features two exterior bottle pockets that "snap off" as well as a plethora of additional pockets inside and out, a changing pad, custom coordinating Scout monogrammed plastic wipes case, Valet stroller clips, and much more.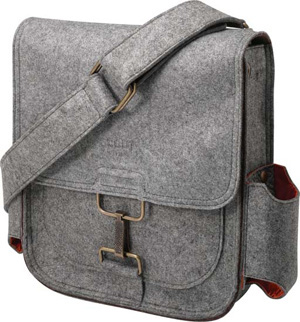 Sophisticated sack
Style-savvy dads will love the brown faux suede men's diaper bag from Diaper Dudes ($110). Featuring three front zip pockets, front flap cover, a detachable cell phone pouch, bottle pocket, diaper pouch, large inner compartment and a changing pad, this sleek bag is perfect for the stylish dad.
A skip and a hop
The Skip Hop Duo Deluxe Edition diaper bag ($35.98) is perfect for the father-to-be on a budget. Despite its tiny price tag, this bag has it all – an astounding 11 pockets, shuttle clips for stroller attachment, side pockets for bottles or sippy cups, cell phone holder and pen pockets, and a changing pad.
You may also like:
- Top 15 chic diaper bags for trendy moms
- Top 10 gifts for his first Father's Day
- 5 Bottle feeding tips for dads