Letting Your Baby Take A Bottle From Dad Is A Great Way To Encourage Bonding And Gives Mom A Much-Needed Break. There'S A Special Closeness That Comes With Feeding Your New Baby. Gazing At One Another, Feeling The Tenderness Of Skin-To-Skin Contact
Letting your baby take a bottle from dad is a great way to encourage bonding and gives mom a much-needed break. There's a special closeness that comes with feeding your new baby. Gazing at one another, feeling the tenderness of skin-to-skin contact, and knowing that you're providing vital nourishment make feeding time the ideal time to bond. But feeding is not a pleasure reserved for mothers alone. Dads, too, can get in on the bonding action – even if Mom is breastfeeding.
Mary Fetzer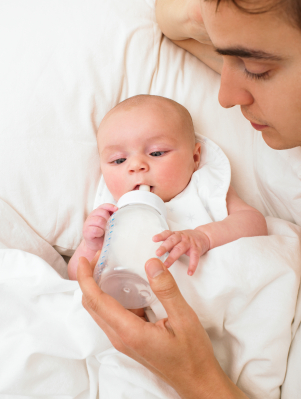 Armin Brott, aka Mr. Dad, is one of the country's leading experts on fatherhood and the author of The New Father: A Dad's Guide to the First Year. "Dads should never miss an opportunity to burp the baby, carry the baby, change the baby," says Brott. "They're great ways to start forming a relationship with his child."
When can dad start giving baby a bottle? If you are breastfeeding, wait until your milk supply is established and your baby is latching on and feeding well to avoid confusion to baby. If you are bottle feeding, you can start immediately.
Here are five tips to help Dad get the most out of the experience.
Hold the baby close
When you're baby is nursing, she's as close to her precious Mommy as she can possibly be and feels safe, secure and satisfied. Daddy can provide the same comforts, too! Blythe Lipman, president of Baby Instructions and author of Help! My Baby Came without Instructions, offers dads this advice when feeding squirmy babies: Place a receiving blanket in the dryer for a few minutes to make it nice and toasty. Swaddle the baby before you begin feeding. The effect is a calm baby who's ready to eat.
Have confidence
Don't be nervous, says Lipman. Your baby doesn't know you haven't done this before, but she does know when you're uneasy. Take pride in the important role of caregiver and provider.
Perfect the latch-on
It may seem obvious, but make sure to gently guide the bottle into baby's mouth above, not under, the tongue, says Lipman.
"Place the bottle in the baby's mouth and gently push her lower lip up to form a seal until she latches on," continues Lipman. "You can gently hold her lower lip with your pinkie finger while she drinks if it makes it easier for her to eat."
Manage the burping
Lynn Daue breast fed her daughter and involved Dad as much as possible. "My husband was responsible for most of the burping when he was home," says Daue. "We also made sure that the two of them had chest-to-chest cuddle time, which seemed to relax her." Knowing that Dad can comfort her takes a lot of pressure off of Mom.
Take turns
"Dads should try to avoid getting up in the middle of the night to do anything with the baby," says Brott. It may sound unfair, but it's not.
Brott believes that a tag-team approach can be a real relationship saver. It's chivalrous for Dad to bring the baby to Mom, burp and change the baby, and then put her back to sleep, says Brott, but it's impractical. "A far better solution is for mom to handle a couple of the nighttime feedings alone," suggests Brott. "While she's up, she can pump a couple of bottles and leave them for Dad." Meanwhile, Dad gets four to five hours of uninterrupted sleep. Early in the morning, Dad can take over with the pumped bottles while Mom gets her share of uninterrupted sleep. "This way," explains Brott, "you have two very tired people instead of two sleep-deprived people. There's a big, big difference."
If mom is breastfeeding, check out these suggestions for buying a breast pump that is best for your needs. If mom is formula feeding, make sure you are following these safety steps, including proper mixing and storage, when preparing a bottle. Whether you are breastfeeding, formula feeding or a mixture of both, make sure you are using BPA-free bottles. Check out our pick here of the top 3 best bottles for baby.
Dads can – and should – be involved in every aspect of this new little life. "The more comfortable Dad is with the basic baby-handling tasks, the more confident he'll feel," says Brott. "Meanwhile, the baby is getting used to the sights and sounds of Dad." And creating a bond that will last a lifetime.
More tips for new dads:
- Your husband and breastfeeding
- Top 10 gifts for his first Father's Day
- 6 Ways to keep the romance alive after baby
- Study: New dads suffer from postpartum depression