Baby Safety Checklist
After the recent crib recalls, many parents are left confused as to what safety features they should look for when buying a crib. Keeping Babies Safe is a nonprofit organization dedicated to providing tips for parents on what to look for when buying a safe crib, as well as general safe sleeping information.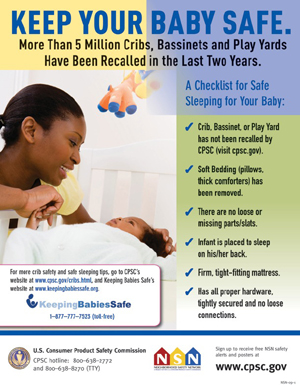 Keeping Babies Safe  is a 501 (c)(3) nonprofit organization that provides free, reliable crib and safe sleeping information for babies. Keeping Babies Safe's mission is to educate and inform parents on how to keep babies safe from preventable injuries associated with unsafe cribs and sleep environments, dangerous infant products, product recall information and provide safety tips so parents can be vigilant about keeping their babies safe.
Keeping Babies Safe also mounted Project Safe Crib, an assistance-based program designed to help parents from economically challenged environments obtain safe cribs through health and human service organizations around the country.  Project Safe Crib trains health and human service organizations in safe crib practices and purchases safe cribs at an industry discount and offers them to these organizations for distribution to the public.  The cribs are brought into homes by these trained professionals and set up to the highest safety standards.
Crib safety checklist
Keeping Babies Safe recommends the following crib and sleep safety tips:
 *   A firm, tight-fitting mattress.
 *   Properly assembled Cribs. No more than 2 3/8 inches (about the width of a soda can) between crib slats.
 *   No corner posts over 1/16th inch high.
 *   No cutouts in the headboard or footboard.
Do not use:
 *   Second-hand cribs, bassinets or play yards.  Parts can be broken or missing.
 *   Drop-side cribs of any kind.
 *   Cribs, bassinets, play yards that have been recalled by the Consumer Product Safety Commission.
 *   Cribs that have missing, loose or broken hardware or slats.
 *   If there are any missing, loose, cracked, broken or improperly installed screws, brackets, slats or  other hardware on the crib or mattress support.
 *   Soft bedding, pillows, fluffy blankets, stuffed animals and toys in crib or any sleeping environment.
Checklist to prevent SIDS
For infants under 12 months of age, follow these practices to reduce the risk of SIDS (sudden infant death syndrome) and prevent suffocation:
 *   Place baby on his/her back in a crib with a firm, tight-fitting mattress.
 *   Do not put pillows, quilts, comforters, sheepskins, pillow-like bumper pads or pillow-like stuffed toys in the crib.
 *   Consider using a sleeper instead of a blanket.
 *   If you do use a blanket, place baby with feet to foot of the crib. Tuck a thin blanket around the crib mattress, covering baby only as high as his/her chest.
 *   Use only a fitted bottom sheet specifically made for crib use.
Checklist for playpens
For mesh-sided cribs or playpens, look for:
 *   Mesh less than 1/4 inch in size, smaller than the tiny buttons on a baby's clothing.
 *   Mesh with no tears, holes or loose threads that could entangle a baby.
 *   Mesh securely attached to top rail and floor plate.
 *   Top rail cover with no tears or holes.
More baby safety tips:
-Info on the latest Graco crib recall
-Simplicity cribs recall: Infant death reported
-One minute car safety checklist