Just Because You Are A Mom, Doesn't Mean You Have To Sacrifice Your Style! The Fashion World Has Finally Recognized That Diaper Bags Don't Have To Be Dowdy To Be Functional, And There Are Some Awesome Choices Out There When It Comes To Deceivingly St
Just because you are a mom, doesn't mean you have to sacrifice your style! The fashion world has finally recognized that diaper bags don't have to be dowdy (or covered with cartoon characters!) to be functional, and there are some awesome choices out there when it comes to deceivingly stylish diaper bags. Here, we present 15 of the coolest diaper bags for every budget -- some with very posh price tags and some that are budget-friendly.
Molly Cerreta Smith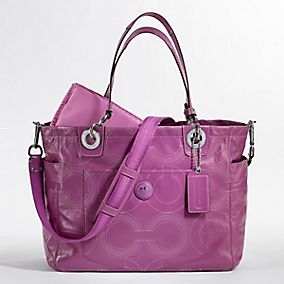 Luxury ladies
For the stylish sista, Gucci's black messenger-style diaper bag features the iconic GC fabric with black leather trim, adjustable shoulder strap with stroller snaps, a fold-out padded changing mat, and ample pockets including front and back pockets, side ruched pockets ideal for bottles and an inside pocket. $980, Neiman Marcus.
Coach is synonymous with cool, and that's exactly what this Alex stitched patent leather baby bag (pictured, right)– which comes in this lickable light raspberry shade as well as white or black version. Features include interior multi-functional compartments, changing pad, detachable strap, as well as outside front, two-side gusset and two back pockets. $398, Coach.com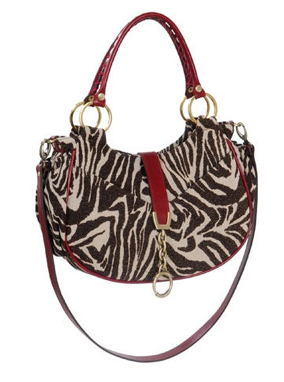 This sophisticated and stylish Next toffee/ivory grommet diaper bag features gold-tone hardware grommets laced with a silk scarf – but that's just to disguise the fact that this bag is ultra-functional. It features two interior bottle holders, two divided pockets, a changing pad, two exterior pockets, a large interior pocket and a key chain holder. $324, BlissDiaperBags.com
There is actually a lot of rational behind the Not Rational Hansel diaper bag. Made of Italian lamb leather, this posh pack includes an exterior pocket with snap closure, matching leather changing pad, bottle and pacifier, four outside pockets, removable long strap and adjustable handles. $570, Blissdiaperbags.com
The Alisa zebra diaper bag in gold zebra by Mia Bossi (pictured, right) is made of Italian Hermes lamb leathers and features chrome finish hardware, zip-in and zip-out inside lining, washable animal print changing pad, two external bottle holders as well as one internal bottle holder and additional pockets. Bonus: you could easily take this out to a hip restaurant without anyone knowing it is a diaper bag! $570, Diaperbagboutique.com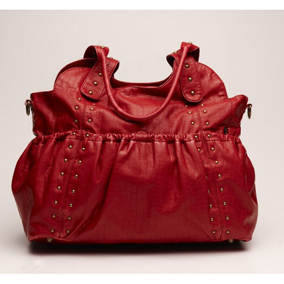 Middle of the road mamas
The Elizabeth Rococo by Storksak features a thermo-insulated bottle bag that keeps bottles warm or cool for up to four hours, a padded changing pad, and multiple compartments designed to pop out to create more space for larger items, including a laptop for you multi-tasking mamas! $199.99, Blissdiaperbags.com
Steal the show with this OiOi red weathered leatherette ruched tote diaper bag (pictured, right) which features an easy-wipe-clean finish, elasticized pockets, main compartment with elasticized pockets, nylon lining and accessories, fixed stroller straps, insulated bottle holder, changing mat and OiOi wipes case. $160, diapers.com
The CJ Satchel tote diaper bag by Timi & Leslie will dress up any mom outfit! The faux patent bag features six interior pockets, pouchette for mom with credit card slots/zipper pocket, changing mat with diapers and wipes pocket, insulated bottle holder with clip-on handle and a handy key fob. $159.99, Blissliving.com
Timi & Leslie's 2010 Baby Jane diaper bag is sleek and sophisticated. The double-handle tote features a bottle thermos bag, cloth zipper bag, changing mat, zipper case, two hook tags, five pocket compartments and an adjustable strap. $164.99, Babynaturale.com
Babymel's London Amanda pink and chocolate stencil diaper bag is perfect for the mom-on-the-go. The unisex bag comes in many styles and colors, and is designed for parents of multiple kids or twins. It has an astounding 10 outside pockets, six inside pockets, and two thermo-insulated pockets. The coolest part? It separates into two bags, so you can pack light, if needed or bring everything you need for a longer trip. $88, Luvmybag.com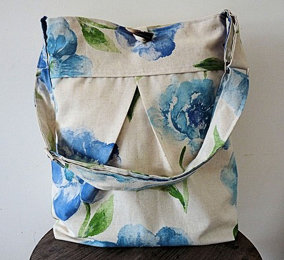 Budget-friendly baby
The Dude Diaper Bag camouflage diaper bag with orange zippers is perfect for dads on duty – or sporty moms! The messenger-style ergonomic bag takes the load off your shoulders and the bag features three exterior pockets, larger inner compartment with pouch for diapers and a changing pad. $59,99, Target.com
Ikabag's beautifully floral handmade painted French linen bag (pictured, right) is just delicious and the price makes it even better! It has five interior pockets, an adjustable strap and a button bone closure. This may not be an "official" diaper bag, but it's so darling we couldn't pass it up. Just get yourself a separate portable changing pad with the money you're saving! $48, Etsy.com
Walmart's Baby Star rock the tote diaper bag in metallic silver is perfect for the environmentally conscious mama on a budget. The formaldehyde- and AZO-free bag features a wide zipper pocket, two open pockets for wipes, bottles or a cell phone and even space for a laptop. $59.99, Walmart.com
The Amy Michelle Broadway tote with black graffiti with powder pink lining has a "baby section" with changing pad, internal and external pockets, quick-release pacifier and stroller attachments; the "mom's section" features a pocket for day planner, key ring, and other mom essentials. $65, Luvmybag.com
The JJ Cole green Theory diaper bag will brighten up you whole day! The PVC- and phthalate-free bag features eight organizer pockets, a removable coordinating purse, pacifier pod, stroller straps as well as a changing pad. $79.95, Albeebaby.com

More parenting baby tips:
-A trimester by trimester baby preparation guide
-Do's and dont's for creating your first baby nursery
-Top 15 ways to be the hot mom