Tips On How To Endure An Endless Guests List When All You Want Is Alone Time With Your New Baby.
Bringing your baby home from the hospital is one of the most bonding, life-altering, floating-on-top-of-the-world moments. But it can also be one of the most physically and emotionally taxing. Find out how you can handle an endless guest list of well-meaning friends and family when all you want is alone time with your new baby.

Joanne Kimes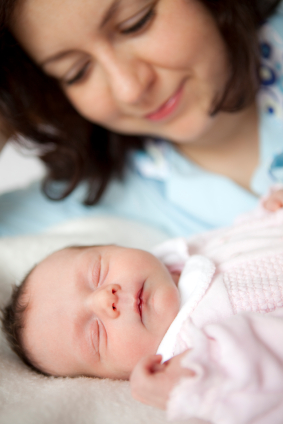 Here you are exhausted from a lengthy delivery and uncomfortable from having stitches where stitches should never be. You have more hormones than non-organic milk and are desperately afraid of your own toilet. In addition to dealing with those monstrosities, you also have to deal with the onslaught of well-meaning, yet slightly overwhelming number of visitors who want to come over and check out the new arrival.
Yes, nothing fills a home up with visitors more than bringing home a brand-spankin' new baby. Every friend, family member, co-worker and neighbor are desperate to come over and take a peek.  It's as if you've given birth to Justin Timberlake and swaddled him up in a baby blankie. Not only do these people drop by unannounced and stay way longer than you'd like, but they want to hold your newborn with their germy hands and tell you every gory detail of their own birthing story. And worst of all, they want to be fed. All you want is a nice sitz-bath and a little shut eye, but you have to put on clean clothes, straighten up your home and assemble a cheese tray! Heavens to Betsy!
So, that begs the question: How can you juggle the demands of a new baby while being polite to all the people who want to come over and visit? Here are some ideas:
Go high-tech
Sometime before your kid is born, get a video camera for your PC computer (if you have a Mac, there should be a camera already built-in). Then you can download Skype at skype.com and video chat for free with anyone else who has Skype (if you have a Mac, you can iChat with them, but only if they too, have a Mac with iChat. If they don't, just use Skype as well).  Then you can show your baby to everyone with computer access and a camera while sitting cozy and comfy on your donut pillow. And, there's no risk of bringing in germs!
Be specific
If someone calls and wants to come over to see the new arrival, don't just tell them what time to come over, tell them what time they need to leave as well. For instance, mention that they can only stay for an hour because you have a pediatrician's appointment (they don't need to know the appointment is next week).
Screen calls
Don't answer your phone!! The moment you do, it's only a hop, skip and a jump from having guests at your doorstep. Let them leave a message and call them back whenever you can get a free moment (probably around your kid's first birthday).
Shhh...baby sleeping
Put a sign on your door that says, "Please don't ring the bell.  Baby and mommy are sleeping."  You'll be flabbergasted how many people just drop by and ring your doorbell without being invited. This isn't Mayberry, people!
Embrace the mess
Don't stress out about cleaning up your home before your visitors arrive. Not only will this completely exhaust you, but perhaps sitting in the filth will make these people leave even faster! That's right, as a new mom you will have to let some things, such as a spotless house, slide for a little bit. For more tips on what to expect as a new mom, read Surviving the First 3 Months of Motherhood.
Schedule groups
Schedule visitors in groups so you only have to have a few showings a day. Don't forget to mention a specific starting and ending time to avoid overstimulation for you and for baby!
You may also like: 11 Ways to beat new mom fatigue.
Food is welcome!
When people ask if there's anything they can bring, tell them to bring food. I would have had that nosy neighbor down the street come over if she brought a bucket of chicken. Check out The Nursing Mother's Diet to find out what foods you should be stocking up on.
Remember, just because people want to come over and see your new baby, doesn't mean you have to let them. Right now, your needs must come first. And those needs are bonding with your baby, spending quality family time with your husband, and of course, taking that nice sitz-bath!
More tips for new parents:
-Why baby's crying -- and how to stop it