Thanks To Baby Carriers, Wanting To Keep Your Baby Close Doesn'T Necessarily Mean Your Arms Cannot Be Free, Too. But, Do Recent Baby Sling Recalls Have You Concerned About The Safest Way To Carry Your Bundle Of Joy? From Baby Carrier Options To Car
Thanks to baby carriers, wanting to keep your baby close doesn't necessarily mean your arms cannot be free, too. But, do recent baby sling recalls have you concerned about the safest way to carry your bundle of joy? From baby carrier options to carrier safety, discover some safe, popular ways to wear your baby here.
Michelle Maffei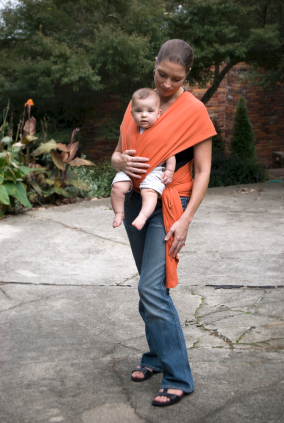 If you are like many of today's parents, the trend to "wear your baby" is catching on faster than you can say, "binky!" The good news is that this trend is also good for your baby. "Wearing your baby promotes bonding, enhances your communication with your baby, and makes your baby healthier," advises Dr. Laura Markham, child psychologist. In addition, wearing your little one makes for a happier baby. "In one study babies who were carried two hours per day cried 43% less." 
Slings
Unless there has been an official recall, baby slings are safe when used correctly. Just make sure to follow these safety precautions from the Federal Consumer Product Safety Commission on how to safely carry a baby in a baby sling:
Make sure your infant's face is not covered and is visible at all times to the wearer
If using the sling while nursing, change the baby's position after feeding so the baby's head is facing up and not pressed against your body
Ensure that the baby's chin is not pressed against her chest, restricting airways and limiting oxygen supply
Frequently check your baby in the sling; weak neck muscles will not allow her to cry for help and suffocate within a minute or two
Before you use a baby sling, make sure to check with your baby's pediatrician, especially if your baby is a preemie, in fragile health, or has low weight. If given the green light, read all literature included with the sling to ensure that your baby is riding as safely as possible while feeling as snug as a bug.
Get more facts here on the Infantino baby sling recall, as well as more baby sling safety tips, including a sling safety video.
Wraps
Long pieces of cloth that keep your baby conveniently fastened to your chest like the Maya Wrap and Moby Wrap are both versatile and comfortable, allowing you to strap your baby to your front, side, or back. Wraps are also great for skin-to-skin time and for new dads who may be apprehensive about holding a newborn.
Pouches
Pouch-style baby carriers such as BabyBjörn allow you to wear your baby on your front, and even nurse while wearing your infant, while the ERGObaby allows you to wear baby on your front, back, or hip. In the front, Baby can face forwards or backwards, or even carried on your hip with the ERGObaby carrier.
Backpacks
Baby backpack carriers like the Chicco Smart Support and the Sherpani Rumba Backcountry give you the convenience of toting your tot on your back. The biggest benefit is the bird's eye view your darling gets of the world around her, whether heading down the trail or over to the neighborhood park.
Baby Carrier Safety
The right information and some common sense will help you keep your most precious cargo safe while she enjoys hitching a ride on the mom-and-dad-express. Whether you choose a baby sling, pouch, wrap, or backpack, remember to:
Check your baby carrier's condition for wear and failure often
Wear sensible shoes when wearing your baby
Prevent slips and falls by avoiding hazardous weather conditions when using a carrier
Always have a plan B when using your baby carrier isn't the safest choice
If possible, take your carrier of choice for a test run before you buy. No one better than your little one to help you figure out whether you will both be comfortable with her riding shotgun! Walk around the store with your baby in the carrier or borrow one from a friend before making a decision. It's a choice from which both you and baby will benefit!
More baby parenting tips:
-6 Tips for buying a baby monitor
-7 Ways to reduce the risk of SIDS
-Do's and Don'ts for creating your first baby nursery