Baby Monitors Are Great For Parents And Children Alike. The One-Way Baby Monitors Are Great For Parents To Ensure That They Can Hear Any Sound In The Baby'S Room And Therefore Rush To The Nursery In Case Of Need.
Baby monitors are great for parents and children alike. The one-way baby monitors are great for parents to ensure that they can hear any sound in the baby's room, providing reassurance to nervous new parents. A two-way baby monitor can be extremely soothing and calming for a baby since he can hear the voice of the parents as soon as he gets up. Get tips on picking out the right baby monitor for you and your family.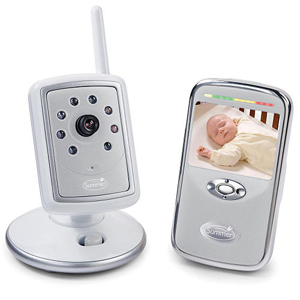 Baby monitors are a great invention allowimg parents to take the practical approach and catch up on all the work that needs to be completed when the baby is asleep or busy playing with the mobile on the cot.
The issue arises when parents need to select a baby monitor. There are so many types of baby monitors in the market today that finding one that is the best is almost impossible unless you know what to look for. Some of the characteristics that you should consider while purchasing baby monitors are discussed below.
Factors to consider
-Clarity of reception: The most important feature of a baby monitor is the quality of the reception. Can you hear the sound clearly and is the picture nice and sharp in the case of a video baby monitor? This is important because you are likely to be rushing to the nursery every time you hear something that doesn't sound quite right. If you have trust that the baby monitor is good, you will rest peacefully.
-Compact and portable: If you want to be at ease and be able to do the work that you want around the house, you should be able to carry the portable receiver with you at all times. This means that you will need something that is light and easily movable. Make sure that the receiver does not make too much noise and static during movement.
-Visual stimulus: Many baby monitors have a signal that lights up when there is a sound received by the receiver. This is helpful if you are working in a place that has some noise. It is also a great help when you want to relax and catch a movie too. Some of the latest baby monitors have a vibrator device that you can strap on your arm. As soon as a sound is received, there is a vibration that alerts you.
-Low battery signal: The last thing that you want is to have a situation where the battery of the receiver is low and you are not able to hear your baby's cries. Most of the good baby monitors come with a low battery signal that will tell you that it is time to change the batteries.
-Range: The range of the receiver that you need depends on how large your house is. Those who live in apartments do not need baby monitors with a long range. On the other had, if you have a relatively large house and a backyard, you may want to buy one that allows you to receive the signal in all places.
-Bandwidth: It is always a good idea to go with a larger bandwidth of frequency so that you can choose a frequency that does not have too much disturbance.
 Whether you opt for a one-way or two-way baby monitor or a audio or video one basically depends on your preferences. But it is important to keep the above mentioned points at all times to ensure a good buy.
Pictured is the Summer Infant Slim and Secure Handheld Video Monitor ($199.99) from Babies R' Us.

More tips on parenting baby:
-10 Ways to save big bucks on baby gear
-Do's and don'ts for creating your first baby nursery
-7 Ways to reduce the risk of SIDS