Welcome Your New Baby With The Comforts Of Old. Shabby Chic Is A Delightful Trend That Begs Decorators And Designers To Recreate The Lovely Atmosphere Of Days Gone By. Shabby Chic Offers A Delightful Theme For A Nursery, And The Options Are Endless.
Welcome your new baby with the comforts of old. Shabby chic is a delightful trend that begs decorators and designers to recreate the lovely atmosphere of days gone by. Shabby chic offers a delightful theme for a baby nursery, and the options are endless.
Mary Fetzer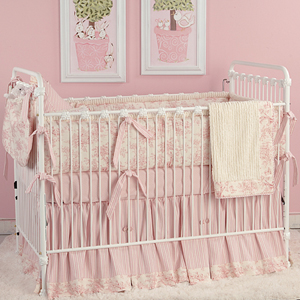 What is shabby chic?
Shabby chic means a little something different to everyone. It's more of a feeling than a textbook design style.
Carpenter, designer, and television host Brian Kelsey describes shabby chic as "casual, clean, whimsical, but rough around the edges, and distressed whites with contrasting wood tones."
Donna H. Baumann of DHB Designs agrees, sort of. To Baumann, shabby chic is "pure comfort living… a room that has slipcovered upholstery, washable linens, and a clean crisp color palette."
Interior designer Natalie Umbert believes shabby chic is "an effortless combination of comfortable, gently lived-in furnishings and charming fabrics that are luxuriously soft yet practical."
Pictured, right, is the Baby Pink Toile Crib Bedding from KooKoo Bear Kids.
Shabby chic baby furniture
Kelsey, Baumann, and Umbert didn't use the words "old" or "antique" to define shabby chic. Instead, the words "clean" and "comfort" were the more common themes.
This is important when selecting baby furniture. As tempting as Grandma's antique crib may be, it's not safe. Older furniture items carry serious safety risks such as lead paint and wide-spaced slats, so resist the urge to bring home that gorgeous flea market find for baby's room. Get safety tips here on buying used cribs.
Kelsey has two young boys and turned to online resources for new furniture—specifically the crib and changing table—with antique styling.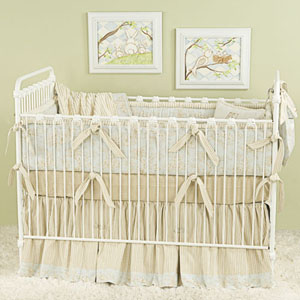 Kelsey faced the same dilemma when looking for nursery furniture—specifically the crib and changing table—for his boys, so he turned to online resources. KooKoo Bear Kids and Kt Steppers. "It will serve as décor now and a practical and useful item for your toddler down the road!"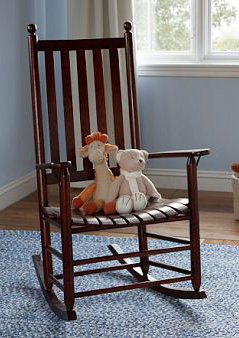 Shabby chic nursery details
Once you've found the perfect shabby chic crib, you can build the rest of the nursery around it.
Kelsey associates shabby chic with particular design elements. "I always associate shabby chic with faded wide-strip patterns," says Kelsey, "but you can't go wrong with simple white walls complimented by pink or blue accents."
Shabby chic is appropriate for girls and boys alike. Baumann suggests using white and ruffles with a dash of pink for little girls. "For the boys," says Bauman, "I would stick with white and keep it very tailored – no frills or ruffles. Perhaps throw in a punch of rich evergreen to keep it masculine."
"Don't try too hard," says Umbert. "Effortlessness is the key shabby chic. Choose only pieces that you love, and let the space evolve as you bring in new finds!"
Why not pick a shabby chic baby name to go along with your nursery? Get baby name ideas here!

For more tips on baby nursery design: