Looking For Some St. Patrick'S Day Fun For Your Baby Or Toddler? From Crafts To Do To Plenty Of Chances To Learn Something New, Here Are Some Fun Ways To Celebrate The Lucky Day With Your Little Leprechaun.
St. Patrick's Day is filled with green clovers, pots of gold at the end of rainbows, and fun for kids of any age! Looking for some St. Patrick's Day fun for your baby or toddler? From crafts to do to plenty of chances to learn something new, here are some fun ways to celebrate the lucky day with your little leprechaun.
Michelle Maffei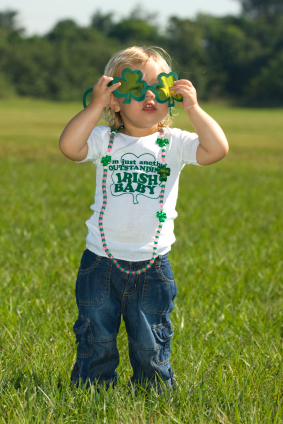 "Growing up, my sister and I would wake up on St. Patrick's Day to find various things around the house turned upside down by a leprechaun," shares Amy Langan, Corona, California. "We never did catch the little rascal, but it was a fun way to mark the special day!" Here are some other traditions you and your brood can try to get in on the St. Patrick's Day fun:
Eat green
On this lucky day, serve your kiddies St. Patrick's Day-themed eats all day long. Here are some fun foods your baby and toddler will want to gobble up:
1. Serve green-tinted milk
2. Eat Lucky Charms cereal
3. Pour pancake batter into shamrock shaped cookie cutters
4. Nibble kiwis, green grapes, sugar snap peas, and celery
5. Chill jiggley green gelatin
6. Pile up "pots" of yellow gelatin cubes of "gold"
7. Whip up pistachio pudding or shamrock shakes
8. Dish up green mashed potatoes and green biscuits
9. Cook up corned beef and cabbage
They might also like: Finger food mania: Avocado

Teach green
St. Patrick's Day can be a chance to learn about something new. Try out these activities that will keep your wee little one entertained while he's being educated:
10. Plant some clovers, flowers, greenery, or trees with your little helpers to be truly green this holiday
11. Explore the Irish heritage by studying the colors of the Irish flag or a map of Ireland with your eager learner
12. Read St. Patrick's Day books or Green Eggs and Ham for a green-themed quiet time
13. Use clear plastic cups of water and food coloring to teach your tot about how to make each color of the rainbow
14. Cut the stems of carnations, put them in food color-tinted water, and watch them change color for an easy lesson about flowers
Get tips here on raising a green or organic baby.
Play green
Looking for some green fun? Here are some St. Patrick's Day-themed crafts and activities that will keep your tiny tots amused:
15. Leave a piece of "gold" for a Leprechaun and have him leave chocolate coins on St. Patrick's Day morning
16. Discover Irish music and do a jig with your sweetie pie, regardless of who's watching
17. Take a nature walk and point out things that are green, gold, and all the colors of the rainbow
18. Create shamrock and rainbow art by using stamps cut out of potatoes
19. Let your babe scribble away using shamrock stencils or sandpaper-shaped shamrocks for crayon-rub art
20. Grab an apron and some finger paint to create some thumb print shamrocks and handmade rainbows
21. Whip up some green salt dough and let his little hands create some keepsake art
For more craft ideas, check out St. Patrick's Day crafts for kids.
Wear green
Everywhere you look on St. Patrick's Day you will spot someone sporting green! Here are some more ways you can add some green to just about anything that will stand still:
22. Decorate plain t-shirts with fabric markers and let your toddler create his own St. Patrick's Day getup
23. Adorn your home with handmade shamrocks and rainbows, and don't forget to use gold glitter for the pot of gold at the end of the rainbow!
24. Create green foot print onsies your wee little one can wear on the lucky day
25. Grab some plain plastic caps from the party store and let your preschooler wear a St. Patty's hat of his own design
Luck o' the Irish! Check out our list of Popular Irish Baby Names.