Tips On Using Feng Shui To Create A Tranquil And Peaceful Space For Your Baby.
Any new parent will tell you they'll do just about anything to soothe their infant and make him comfortable. Taking the time to feng shui your child's nursery will maintain harmony and alleviate distress in your little one's environment.
Elizabeth Weiss McGolerick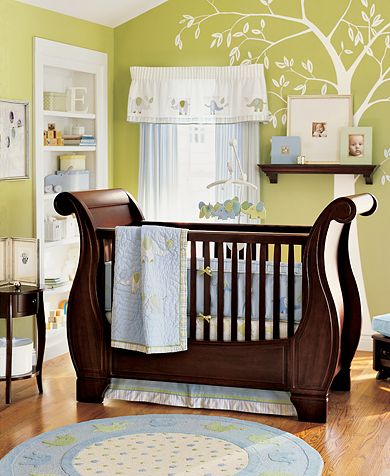 Feng shui is the practice of creating harmonious surroundings to enhance balance. Babies especially can benefit from a tranquil nursery that's been designed to keep their yin and yang in sync. "Because their senses are sensitive and developing, babies are quite the feng shui enthusiasts," says Tisha Morris, feng shui consultant and founder of Mind Body Om. "In feng shui, we like to play to all five senses – touch, sight, sound, smell and taste. All of these should be considered when feng shui-ing a nursery."
Here's how to make the transition from womb to home even easier for your little one.  
Transform the room
As you pull together your child's nursery, it's important to remember that you're not just "making room" for a child in your house, you're welcoming them into your life… and into their new world. Help yourself and baby acclimate by purposefully creating a fresh space. You don't have to hire contractors and architects – but be ready to initiate some serious room rejuvenation!
"For most of us, the nursery was once our storage room, messy office or the unkempt guest room," says Morris, who explains that a transformation will need to take place. "Clear the room, repaint and bring in one element from another part of the house that is your favorite. Rededicate the room to the new beginning and watch it emerge as your favorite." Once baby is living in that room, there's no doubt it will be the most cherished bit of square footage in your home.
Electric babyland
You should also check the nursery for electro-magnetic fields (EMFs), says Maureen Calamia, certified feng shui consultant and founder of Luminous Spaces. "EMFs are discharged from electronic equipment and, most commonly, faulty wiring within the walls, ceilings and floors." You can purchase an EMF meter to check this out yourself or consult with your feng shui expert.
If you do have too many EMFs in the nursery, this can lead to health and sleeping issues, says Patricia John, feng shui consultant and owner of Room 2 Room Organizing. "Too much energy in a baby's room can cause them to be unhappy and unable to sleep properly."
Color baby's world
Painting baby's room is a very common practice for parents-to-be. It's easy to get carried away by an adorable wallpaper pattern or vibrant paint color, but soothing pastels are best. Calamia says, "Greens and yellows provide vitality and interest without being too overpowering."
Having a girl? Pretty in pink is a-ok, but keep in mind that a soft pink hue is preferable to bright pink, says Morris. Pictured, above, is Eli's Elephant Nursery from Pottery Barn Kids.
Banish clutter
Between baby gifts and laundry, it's hard to believe one little person can have so much stuff! Don't allow clutter to reign in the nursery. "While a baby's eyesight is still not fully developed, it is sensitive to the energy of his or her environment and clutter can affect them," says Morris.
Even if you live in a small space, organization can help ward off the natural accumulation. "Baskets and colorful storage bins can maintain the balance of the room's energy without sacrificing the space," Morris explains.
"The natural chi – energy – in the space should be able to flow freely throughout the room, including under the crib," says Calamia. "Do not use this space to store items."
Keep doorways clear as well. "Cluttered doorways can hinder the decision-making process. While your baby isn't making any big decisions at this point, you may be!" Morris says. "Since the nursery is where you will spend much of your time, remove any literal and mental 'blockages' that may keep you from fully experiencing this time."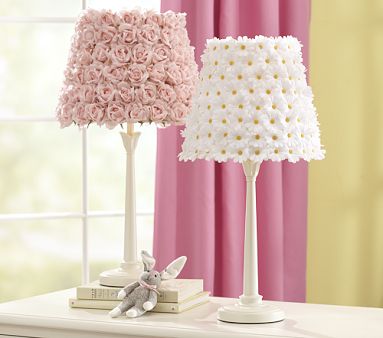 Let light in
Experts agree that natural lighting is best for baby's nursery. "It's great to have a room with an eastern view as the east is the energy of new beginnings and full of life force energy," says Calamia. "Negative ions – conducive to health and well being – are abundant in the morning sunlight."
John agrees and also recommends having a small lamp in baby's room as well. "This lamp can be used when you are feeding the baby, rocking him or her to sleep or when the two of you just want some quiet time together." Pictured is the Flower Shades and Madison Touch Base from Pottery Barn Kids.
Sleep tight
You can probably envision exactly where you want baby's crib to be, but John says, "Do not place your baby's crib in line with the door. Anyone who has their bed like this will not be able to sleep soundly or comfortably." No new parent wants that!
"Rushing chi through the door may cause disturbed sleep patterns," says Calamia, who suggests positioning the crib so that it has a view of the doorway but is not directly in line with the door.
The implementation of these feng shui practices and elements, along with a strong dose of parental love, will make your child's life comfortable, harmonious and, most of all, happy.

More on baby nursery design and decoration: