Themes, Tips And Ideas For Decorating A Girl's Baby Nursery That Will Grow With Baby.
Congratulations! You're expecting a baby girl, and she's going to have the best-dressed nursery ever. Although gender-neutral nursery themes are gaining in popularity, there's nothing like the joy of decorating a nursery that will celebrate your darling daughter's femininity. Follow these tips for a stylish room that will transition over the years to fit ever-shifting tastes, from teddy bears and butterflies to whoever the Hannah Montana du jour is in 2022.
Celeste Gish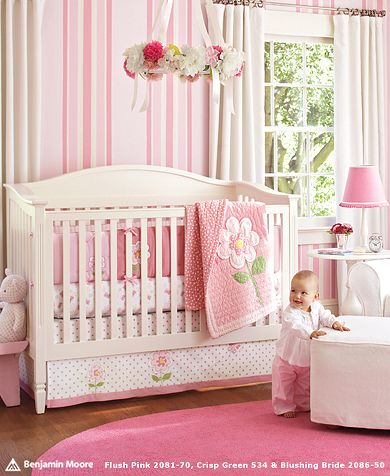 Follow our 10 tips when decorating the perfect nursery for your baby girl:
Tip 1: The main color
Start by choosing a main color for the room that will adapt to changing decorating schemes. A soft, buttery yellow (Carolina Inn Crossroads Gold 3008-6A, Valspar) or muted green (Georgian Green HC-115, Benjamin Moore) can span the years well, providing the perfect backdrop for giddy pinks and purples as well as more grown-up colors like turquoise and lavender. 

Tip 2: Themes
Pick a theme, but be careful when it comes to Disney princesses or other popular characters. Choose thematic elements that can easily be removed or replaced. For example, with a ballerina motif, hang a ballerina mobile, place a pair of ballet shoes on a hook in the corner and hang some framed pictures of ballerinas.
Check out our photo gallery of stylish baby nurseries.

Tip 3: Add flair to your walls
Add personality with a wallpaper border or wood chair rail. Paint the bottom half of the room in your chosen color and use white or off-white for above the chair rail. Or check paint or home improvement stores for more vivid, decorator-inspired palettes. The wallpaper border is another way to express your theme in a way that's easily updated. If you have the time, money and tools, wainscoting and crown molding are easy ways to make a room look expensive.

Tip 4: Go sophisticated
For a sophisticated look, consider a  predominantly black-and-white palette with sparing touches of a pastel pink or lavender floral. For example, layer a floral scarf over a black-and-white polka-dot table skirt or a floral comforter over a black-and-white striped crib skirt. If you have the time and a steady hand, you can even paint a dresser, nightstand or other furniture in a striped or dot pattern.

Tip 5.Custom look on a budget
For a budget-friendly custom look, check department and discount stores for linens, often much cheaper than fabric in a fabric store, especially when they're on sale. Sheets are an easy way to customize and coordinate window valances, crib bedding and other accessories with a minimum of sewing.
Tip 6: Crib skirt trick
Use a full or queen-sized fitted sheet as a voluminously luxurious crib skirt. Added bonus: the hidden area beneath the crib is perfect for extra storage. 
Tip 7: Skip the lace
Save the Victorian lace for her wedding day. It's beautiful but too high maintenance for a nursery or child's room. 
Tip 8: Personalize
Check hobby stores for large decorative letters to spell out Sweet Dreams or your little girl's name above the crib, over the door or on the windowsill. Buy the letters already finished or paint naked wood to coordinate with your existing color scheme.
Tip 9: Storage space
You can never be too rich, too thin or have too much storage space—especially when we're talking about a budding shoe collection. Use matching wicker baskets set on wall shelves to organize toys, shoes, quilts and blankets. Over-the-door hooks are ideal for hats, hair ribbons and dress-up items. When your daughter outgrows her cradle or bassinet, use it to stow her dolls and stuffed toys.
Tip 10: Add sentimental touches
Add charm and personality without breaking the bank. Don't overlook antique shows, flea markets and garage sales for picture frames, antique toys and other one-of-a-kind curios that can make a room special. Sentimental items like framed baby footprints, collages of items from the year of your child's birth, story book covers or even a personal letter from Mommy and Daddy can add a distinctive touch.

For more tips on baby nursery design: