Parenting Books That Help Moms Deal With Stress, Be A Better Parent And Strengthen Their Relationship With Their Husband
Amid the chaos of busy schedules, tight purse strings and day-to-day struggles, moms still need time to connect with their family. The books featured here offer fresh perspectives on how to create that happiness, from infancy onward. Find the must-read parenting book that's right for you.
Elizabeth Weiss McGolerick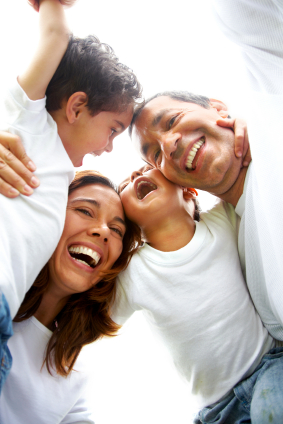 New moms dream of creating the ideal family and nurturing it into a thriving, happy, content unit. But everyday life can interrupt your goals and distract your focus. Whether you're looking for a way to bond with your baby, reason with your toddler or reconnect with your spouse, these books have the solutions to family bliss.
Natural nurturing
In The Baby Bond: The New Science Behind What's Really Important When Caring for Your Baby, parenting expert Linda Folden Palmer identifies nurturing techniques to help new moms bond with their child naturally while building a healthy family. From the benefits of breastfeeding to the influence of attentiveness and touch on brain development, this book even explains how the teen years can be less stressful for parents who rely on "attachment parenting."
Find out more on attachment parenting here!
Reduce stress
To foster a happy family, mom has to find joy within herself. In Addicted to Stress: A Woman's 7-Step Program to Reclaim Joy and Spontaneity in Life, stress management expert Debbie Mandel outlines how to eliminate stress addiction. This book offers steps to help you recapture your core self (you know the one – before you were a wife, mother or colleague), overcome daily stressors, build up an immunity to outside pressure, cultivate your sense of fun and humor and even jump-start your libido.
Get tips here on managing depleted mom syndrome.
Manage it all
Moms who go to the office every day have one thing in common: working-mom guilt. In Working Mom's 411: How to Manage Kids, Career & Home, by parenting consultant Michelle LaRowe, you can learn how to manage it all while still helping your family thrive. Readers will find answers to questions about how to manage pregnancy at the office, going back to work after maternity leave and streamlining life as a whole once baby arrives.
Find out here if you can afford to be a stay-at-home mom.
Find your voice
Clinical psychologist Sharon Fried Buchalter authored two books that can be your family's saving grace: New Parents Are People Too: 8 Secrets to Surviving Parenthood as Individuals and as a Couple and Children Are People Too: Unlocking the 8 Secrets to Family Happiness. She focuses on insuring that every voice in the family is heard, and teaches new parents how to work together to become great parents while nurturing themselves separately and as a pair. Her common-sense approach is accompanied by interactive tools to help every family reach their full potential.
For instant gratification, read: 5 Ways to prepare you marriage for baby
Bites of wisdom
Moms looking for a quick pick-me-up will enjoy 1001 Things It Means to Be a Mom. This pocket-sized collection of real-mom quotes was compiled by Harry Harrison, Jr., a man who wanted a better understanding of what women experience as they raise children. You'll recognize yourself in the statements (each begins with "being a mom means") and be reminded that every little thing you do can help or hinder the happiness of your family.
Consistent value
Whether you're a two-parent, single-parent, blended or same-sex family, Brown University's clinical assistant professor of psychiatry Scott Haltzman will help you build a foundation that will endure even in turbulent times. The Secrets of Happy Families: Eight Keys to Building a Lifetime of Connection and Contentment covers the importance of commitment, good communication and conflict resolution while offering specific, age-related, childrearing advice.
 
Answers to all the "whys"
The Birth to Five Book: Confident Childrearing Right from the Start by childrearing expert Brenda Nixon offers up practical ideas and success strategies to aid moms in managing the challenge of raising young children while still creating family unity. It's a confidence-booster and stress-reliever that takes the doubt out of parenting during every stage of a young child's development, from infancy to toddlerhood to preschool to kindergarten.
Sign up for our baby calendar for age-specific advice for your tot!
Have faith
Transformational Mothering: A Prayerful Companion for New Mothers, by Amy Robbins-Wilson, is for women of any faith, whether you regularly turn to prayer or shy away from it. The affirmations, stories, poetry and prayers in this volume accompany women on the parenthood journey – from conception to pregnancy to labor to all the unexpected transformations that follow as motherhood fully presents itself.
Savvy hot mama
Just because you're a mom, that doesn't mean you're destined for "mom jeans." The Super, Sexy Mom on a Budget by Reneé Rayles is a succinct reference guide that empowers moms to create a lifestyle that encourages them to embrace their inner vixen, all while finding a budget-friendly way to reach your goals, find relaxation and still be a super-fine mama with one super-happy family.
Don't forget to check out The Mommy Files: Secrets Every Mom Should Know (that no one else will tell you!)
For more parenting tips: