Popular Baby Name Predictions Of 2010, Including Looking At Baby Name Trends Such As Celebrity Baby Names, Unique Names And Exotic Names.
What baby girl names and baby boy names will be hot in 2010? Although you can mark your calendar as the year of unisex names and all-sibling names that start with the same letter (like the Duggar's clan of children with "J" names), don't be too quick to say good bye to chart toppers like Isabella, Ava, and Emma, Aidan, Caden, and Noah; they may be here to stay another year!
Michelle Maffei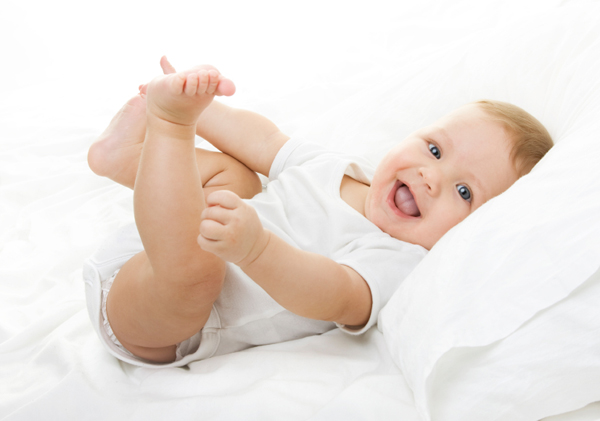 If you're looking for a popular baby boy or baby girl name to fit your bundle of joy, here are our 2010 baby name predictions.
Celebrity baby names
This year, parents-to-be will be label their newborns with names from the pages of celebrity gossip magazines like Gavin, Ryder, Isla, and Sienna. But, reality stars will also have their own fair share of baby name influence. Names like Khloe and Kendra for girls, and Rob and Jake for boys will see a rise in popularity in 2010. 
Celebrity babies were still in the spotlight in 2009. Last year, Twilight's Cam Gigandet welcomed a daughter with the surname Everleigh Ray, and Jennifer Garner and Ben Affleck gave their daughter the very feminine name of Seraphina Rose. Nicole Richie and Joel Madden named their son Sparrow James Midnight, and Kourtney Kardashian gave birth to baby Mason Dash (Dash after her father's nickname) rounding out last year's celebrity births. On January 3, 2010, Matthew McConaughey kicked off the New Year by welcoming a daughter, named Vida, but despite this small stash of unique names, it looks like the crazy celebrity baby naming fad may be on the downtrend.
Check out more celebrity baby names here!
Traditional baby names
Even celebrities are making a shift to traditional names for the tiny new stars in their family. Reality star Kendra Wilkinson and NFL star Hank Baskett named their son Hank Baskett IV, and Tom Brady and Gisele Bundchen chose the name Benjamin for their son. Lance Armstrong welcomed son Max, while actress Kelly Rutherford gave her daughter the moniker Helena Grace.
Trendy baby names
Everyone loves a good name, but parents who do not want to have their little tikes blend in with the crowd are turning to forenames that sound just like the popular ones. Monikers like Jackson are still holding strong in the top 10 charts, so Mason and Grayson will likely follow suit for bouncing baby boys. We also predict that Addison, Ella, and Isabelle will do their fair share of climbing this year for girls. And, also in style are names that end with –en and –an for boys. Make room on the charts for monikers like Braden, Owen, Logan, and Tristan!
Check out the top 100 baby names from the Social Security Administration.
Biblical baby names
Although 2010 will likely see a decline in biblical names, such as Hannah, Faith, and Rebekah for girls, names like Elijah, Isaac, Jonah and Judah can expect to make an ascent in popularity this year for boys.
For more ideas, check out our list of the top spiritual baby names.
Sibling names starting with the same letter
Reality TV families like the Kardashians and the Duggars are sure to influence the baby naming population of America this year. Taking their favorite letter such as "K" like the Kardashians (Khloe, Kourtney and Kim) or the letter "J" for the 19 Duggar kids, bands of broods across the country will share a first initial like these famous families. Expect to see siblings like Alexander, Audrey, Asher, and Avery sharing this same-letter trend.
Find out the "J" names of all 19 Duggar children here. Come on, we know you are curious!
If you love this trend, search for baby names by letter here.
Unisex baby names
Looking for unisex names for your bun in the oven? Unisex name trends like Hayden, Taylor, Riley, and Peyton will still make the top 100 for 2010, thanks to female singer Taylor Swift and male Twilight actor Taylor Lautner, as well as female actress Hayden Panettiere and male actor Hayden Christensen. Don't be surprised to see gender rules being broken with baby names, like with Heidi Klum and Seal who named their most recent daughter Lou.
Unique baby names
The chart toppers of late will have to make way for unique names like Asher, Rhys, Emmett, and Jude that are gaining momentum this year for boys. Stella, Esme, Ruby, and Scarlett are making their way to the top as well, busting up the tight knit group of names that have been holding strong for the last couple of years.
For more unique girl names and unique boy names, check out our list of unique names that are sure to make your child stand out in a crowd.
The steady stream of traditional names, names that end in –en and –an, and unisex names will surely change the face of popular baby name trends this year. From same letter sibling names to familiar names given a new twist, we can't wait to see what this year brings for baby name popularity charts!

For more baby name ideas: