Tips On Baby Nursery Design, Decoration And Organizing To Help You Create The Perfect Room For Baby.
Decorating and organizing the baby nursery can be a productive (and fun!) way to channel those raging nesting instincts. Start with these simple tips to create a space where your newborn will feel welcome and cherished.
Celeste Gish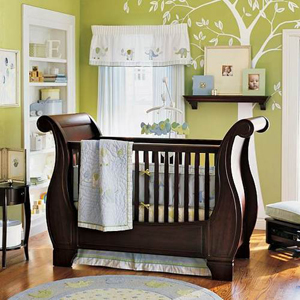 With a little thought and planning, your little one's nursery can be comfy, safe and functional.
Do make safety a priority
Paint the nursery before baby arrives to avoid exposing her to toxic paint fumes. Check websites such as the U.S. Consumer Product Safety Commission for safety issues and information on product recalls. Although hand-me-downs and buying at consignment stores and garage sales can help you stay within budget, if the used items don't meet current safety standards, they are no bargain.
Get more tips here on creating a healthy baby nursery.
Don't forget the essentials
Must-haves include the crib (pictured, Pottery Barn), changing table (nice, but not mandatory), baby swing, rocking chair and dresser or armoire. The travel crib, jogger, Ralph Lauren receiving blanket, Armani sleepers, Bugaboo stroller and Gucci baby carrier are completely optional unless you are raising Conspicuous Consumption Baby. Ditto for doubles of everything to take to grandma's.
Click here to create and print a customized nursery checklist.
Do pay special attention to the changing area
If you have a changing table, use the shelves below to keep changing items organized. Placing the diaper disposal pail beside the table will reduce odors. If you're using a dresser as a changer, use the top drawer to keep diapers, wipes, diaper rash cream and other changing supplies handy.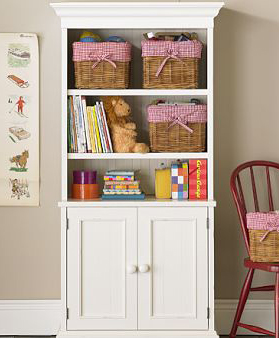 Do make the most of the closet
Since baby clothes are much smaller than adult clothes, you can lower the closet rod to just a few feet from the floor. Use the freed-up space to install shelving and/or closet organizers for added storage space.
Do zap clutter for fun and profit
Put away items you don't need right away. For instance, if you have baby clothing that will not fit until baby is six months old, stow it in plastic containers until you need it. Keep clutter at bay by going through the closet and dresser at least every three months and removing what no longer fits. Label plastic bins or cardboard boxes for sizes zero-to-three months, three-to-six months, six-to-nine months, 12 months, 2T, etc., and store for charity donations or consignment store sales. 
This Rustic Thomas Cabinet and Hutch from Pottery Barn, pictured, makes a attractive way to keep baby's things organized.
Don't overlook under-the-crib storage
If you still need extra storage, add a decorative skirt to the crib and use this space to store clothes that baby will grow into or has outgrown. Plastic containers of hooded towels, wash cloths, baby bibs, extra pacifiers or extra bottles could also fit here. 
Do consider portable rolling storage bins
Use a roller storage bin to corral baby lotion, baby bath, powders, diapers and wipes. You can even cover it with a decorative cloth or skirt to match the nursery décor.
Do pay attention to furniture placement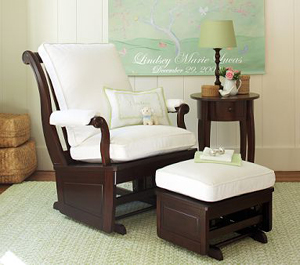 Ideally, the crib should be out of direct sunlight and drafts but as close to the door as possible so you can tiptoe out without waking baby. A nearby electrical outlet makes it easy to plug in a night light, lamp or CD player for soothing music. Avoid placing objects or furniture in the middle of the room so it's easy to navigate as you change diapers, feed or dress baby.
Don't overlook a cozy space for mommy and baby to bond
With all the organization, don't forget to create a place for you and baby to wind down and enjoy some quality time together, cuddling, rocking and lullabying. Even if space is limited, find a quiet nook for a rocking chair, small table and lamp, a comfortable throw blanket and maybe even a few children's books.  Pictured is the Pottery Barn Larkin glider and ottoman.
Stuck on finding the perfect baby nursery theme? Check out our photo gallery of stylish baby nurseries.
For more baby nursery decorating tips: