Tips On Keeping Your Baby Or Toddler Safe This Christmas By Babyproofing Your Christmas Decorations And Tree.
Before you hang up that mistletoe, read our 18 ways to baby proof your Christmas decorations this year. Experiencing the wonders of Christmas through your child's eyes is one of the greatest joys of the season. Keep your baby's perspective in mind as you deck the halls this year – it will help you avoid potential safety hazards. Following these tips will ensure a safe, enjoyable holiday for your precious family.
Mary Fetzer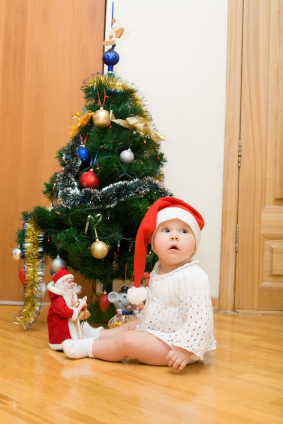 O Christmas tree
Not all Christmas trees are created equal: a dried-out tree is more likely to catch fire.
• When buying a live tree, make sure it's fresh. A healthy tree will have flexible needles and branches and a sticky trunk. 
• Cut an inch or two off the trunk before placing the tree in its stand so it can soak in more water. And always keep the water level in the tree stand well above the bottom of the trunk.
• If you prefer an artificial tree, look for one that is fire resistant.
• Whether you have real or artificial, be sure to keep the tree away from heat sources, like fireplaces, radiators and vents.
• Anchor the tree to the wall to prevent it from falling onto your child.
Silver bells
You can trim a tree that's beautiful and safe.
• Put away your treasured glass ornaments for a few years. Sharp, breakable tree trimmings are dangerous – a child can choke or cut herself on jagged glass pieces. Take inventory and keep track of the hooks you use for hanging tree ornaments. Swallowing one of these sharp metal hooks will cause great harm to your child.
• Avoid decorations that resemble candy or food. (Of course, a little one will put just about anything in her mouth, whether it resembles foot or not, so keep a watchful eye.)
• Use only flame-resistant or non-combustible trimmings, such as tinsel made of plastic or nonleaded metal.
• And use artificial lights only – never place lighted candles on or near a tree.
Deck the halls
Child-proof your decorating this year.
• Everyone loves candles at Christmastime, but they're just not safe. The dancing flame will prove irresistible for grabbing babies. While your children are young, switch to electric or battery-powered candles for that warm glow.
• Keep breakable decorations high and out of the reach of little ones. And if you are displaying your finer things on a table, make sure there's no tablecloth or runner that the baby or toddler can pull onto herself.
• Switch to silk holiday plants for now. Mistletoe, holly berries, Christmas cactus, and poinsettias are poisonous if ingested.
Santa Claus is coming to town
Wrapping paper, gift bags, ribbons, and bows can suffocate or choke a child.
• Keep your baby or toddler away from unopened presents. Don't place gifts under the tree until Christmas Eve night – besides, it's Santa who brings them, right?
• After the presents have been opened, remove all of the wrappings from under the tree (and away from the fireplace, too).
• Be diligent about keeping your elder kids' toys and games away from the younger children. Small parts present a choking hazard, and electronic gadgets can cause burns or shocks. 
Chestnuts roasting on an open fire
Make safety the first ingredient on your holiday menu.
• As you bustle about the kitchen in anticipation of friends and family, keep children away from hot pans, stoves, and ovens as well as fallen ingredients they could choke on.
• As you mingle with guests, be on the lookout for food, candy, sharp utensils, alcohol or tobacco that may tempt your curious child.
• Clean up immediately after every holiday dinner or party -- a young child could choke on anything that's left behind.
Have yourself a merry little Christmas
Don't be dismayed that your home looks less than elegant this Christmas. Lovely decorations are a splendid part of the season, but they pale in comparison to the happy smiles of your safe and healthy children. Gaze upon your child-proofed holiday décor through your child's eyes, and you'll see what they see: a beautiful, festive Christmas home.
More fun with baby during the holidays: