Tips On Giving A Baby Massage, Including Benefits And Massage Techniques.
Baby massage has an amazing impact on a child, including relief of colic and digestive problems, improved sleep and enhanced bonding. Whether calming frayed emotions, soothing a physical injury or lulling into restful sleep, touch is an undeniably powerful sensory tool. Expanding on this concept, massage can take the benefits of touch to a new level. Find out the best techniques to use when giving your baby a massage.
Tiernan McKay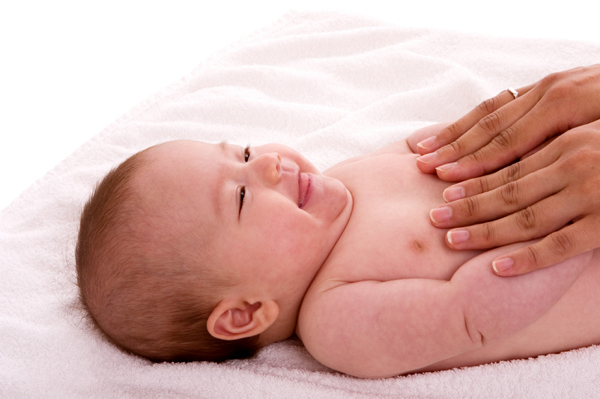 Dating back to ancient times, infant massage is a time-tested and thoroughly researched practice proven to enhance a baby's ability to thrive and bond with his or her parents. Not every massage therapist is knowledgeable about infant massage so it's important to seek out a professional who is properly educated and trained. Bryn Rath of Tranquil Massage in Colorado is a certified massage therapist and ten-year veteran of infant massage. She helps shed light on this specialized segment of natural health.

The benefits of baby massage
Setting the foundation for a nurturing relationship, massage impacts babies on both a physical and emotional level. "Massage demonstrates healthy and loving touch from the very beginning of a child's life and extends the lessons of trust and love into adulthood," advises Rath.
Therapeutic touch is of particular benefit to babies who are premature, have developmental problems or are drug-exposed in utero. Studies show that massaged premature babies (as opposed to babies who are not massaged) are better able to gain weight and develop neurologically, which often reduces the time spent in the neonatal intensive care unit. Other benefits include the relief of colic and digestive problems, heightened communication between you and your baby, increased quality and quantity of sleep and the reduction of physical and emotional stress. Regular and attentive massage also helps you become more familiar with your baby's body, establishing a "baseline" for what is normal.

Set the Stage
The environment in which you massage is just as important as the massage itself. Be sure to eliminate distractions (for yourself and your baby). Soothing lighting and a warm room are ideal. Plan to spend 20-30 minutes with your baby every day. That may sound like a lot," says Rath, "but parents are surprised at how quick the time goes and how much they enjoy connecting with their babies during those precious moments."

The baby massage technique
Many of the ways in which we interact with our babies can be considered massage, such as rubbing their toes or doing "bicycle legs." While infants will benefit from this simple touch, following an actual massage sequence provides a more structured opportunity to connect. While it is best to seek the instruction of a certified infant massage therapist, there are a few techniques that parents can try to first familiarize themselves with the art of touch.
According to Rath, the most important part of infant massage is the abdominal section. "Babies don't have perfect digestive systems and they may have difficulties digesting and expelling gas whether they are breastfed or formula fed," she says. "Abdominal massage can help babies with these issues."

How to give an abdominal massage
The "I Love You" stroke
Start with baby lying down in front of you, facing up, either lying flat or propped up with a pillow or boppy.
Starting on baby's left side, draw an "I" with your fingers, going straight down from bottom of the left ribs to the top of the left hip bone.
Then make an upside-down, backwards "L" by starting at the bottom of the right rib going straight across to the bottom of the left rib and then down to the left hip.
Make an upside-down "U" by starting at the right hip, going up to right bottom of ribs, across to bottom of left ribs then down to left hip.
Your baby will especially enjoy the experience if you sing while massaging, "I....Love...You" with each corresponding stroke.
Finish the stroke by making a big circle all the way around the belly, moving clockwise, and say, "Always."

When should you start massaging baby?
Talk with your doctor, but it's wise to wait until your infant is at least three weeks old before starting massage. This gives parents enough time to get to know their new addition and learn his or her cues. At first, most parents are almost too gentle in their efforts. With practice, you may learn that your little one enjoys a bit of pressure -- but not too much. As always, if there is any underlying health conditions, parents should consult their physician first.
More on parenting baby: