Christmas Gift Ideas For Babies, Toddlers And Preschoolers
Are you looking for the perfect Christmas gifts for babies, toddlers or preschoolers? We have rounded up the hottest toys and personalized gifts to help you narrow down your shopping list. Whether you are looking for personalized gifts, educational gifts or the best toys for baby -- we have you covered!
Molly Cerreta Smith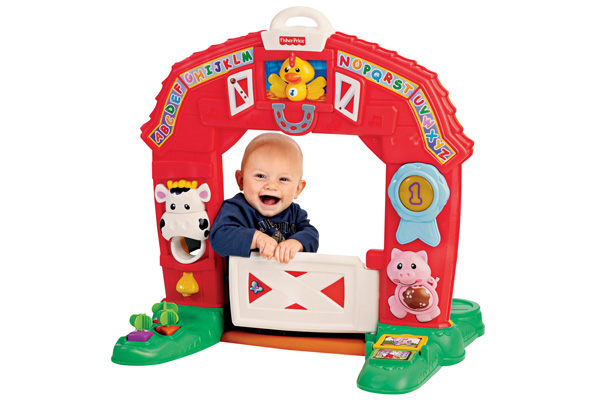 Mirror, mirror
Babies love to look at faces and even if she doesn't recognize the reflection in the mirror as her own, she'll have a blast with her new playmate! The new Sassy crib and floor mirror features a soft blue-and-white polka dotted fabric-framed mirror, ladybug with black and white tracker ball and crinkle-sound fabric leaves, and a satin-winged bumblebee. It can be attached to crib rails or it forms an easel to stand on the floor, ideal for tummy time. Ages birth and up. www.sassybaby.com
Laugh and learn
Babies and toddlers alike will find learning fun as they learn about animals, the alphabet, counting, opposites, colors and more with the Laugh & Learn Learning Farm from Fisher-Price (pictured, above), a double-sided role-play activity center. In learning mode, kids will learn about animal names, the sounds they make and the food they eat. In music mode, they can enjoy classic songs and fresh tunes. Ages 6 to 36 months. www.fisher-price.com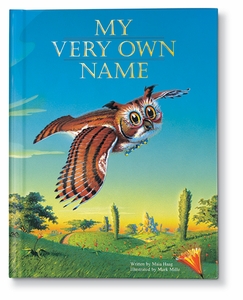 Personal pages
I See Me! Inc. launched a custom storybook, A Christmas Bear for Me, a personalized story about your child's Christmas wish. Each book comes with a plush Gund teddy bear with your child's name on the tag and a personalized letter to your child from Santa himself! Ages birth to 10 years. www.iseeme.com
Color creations
Foster your toddler's artistic nature with the Color Me a Song from Crayola Beginnings. Toddlers can exercise their creativity by drawing on a blank sheet of paper with the eight included Crayola Washable Triangular crayons, while the speed of their scribbles determines the pace of the music. Ages 24 months and up. www.crayola.com
 
Talking truck
Chuck My Talking Truck by Playskool will chat with your toddler as he works on his construction projects. It features more than 40 phrases, sounds and actions, and kids can lift his dump bed, press his roof or push his bumper to hear Chuck say phrases such as, "Time to find some dirt!" Chuck features sound recognition that lets him roll his tires when kids call him. Ages 2 years and up. www.hasbro.com
On a roll
Michiko Baby's Roll 'n' Go Playmat offers portable fun for toddlers on the run. The mat opens to 15 by 15 inches to lay baby on for some exciting tummy time, and includes five pockets to hold little toys, such as cars, for toddlers. The tri-fold mat holds toys securely, rolls up easily and stays closed with the toggle closure, which becomes an easy-to-carry strap. All ages. www.michikobaby.com
SheKnows  readers can take advantage of a free shipping code on Michiko Baby products: Enter SheKnowsFS on orders of $20 or more.
The text generation
Text & Learn from LeapFrog allows little ones to learn through mimicking how Mom and Dad use their Blackberries with this oversized version that provides educational fun through three different modes. Whether exchanging text messages with their puppy pal Scout or checking Scout's planner to see his weekly schedule in pretend browser mode, toddlers will learn the basics of communicating while using a real keyboard. Children can match letters, identify shapes, learn letter names and more. Ages 3 years and up. www.leapfrog.com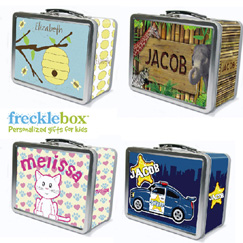 Custom lunch boxes
Frecklebox offers adorable personalized lunch boxes complete with a chalkboard insert where Mom and Dad can leave loving notes. Available in tons of styles for both boys and girls (and even some holiday themes!), the lunch boxes boast your child's name so his lunch box will never get confused for somebody else's. Also check out their personalized coloring books! For only $6.95, they would make great stocking stuffers!
www.frecklebox.com
Creative clips
Playskool's Clipo Creativity Table, which received the 2009 Oppenheim Toy Portfolio Best Toy Award, features spinning gears, chunky connecting pieces, a shape sorter and drop slot in this table system designed to encourage toddlers to develop fine motor skills. 18 months and up. www.hasbro.com/playskool
For more Christmas gift ideas: