Our Pick Of The Top 20 Baby Shower Gifts That Are Unique, Special And Useful To The New Mom.
All of a sudden, it seems that you and your friends are all becoming parents at the same time, and coming up with just the right gift for yet another baby shower can be challenging. Choose something from this list and you're sure to give the mom-to-be a gift she'll love.
Mary Fetzer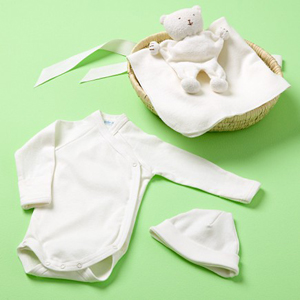 Organic Baby Gift Basket
There are things a baby needs – receiving blankets, onesies – and things they don't need, like pesticides. This all-in-one Organic Baby Gift Basket makes a perfect shower gift. Made by Under the Nile, the set includes an ivory long-sleeve/side snapsuit (size 0-3 months), hat, swaddle blanket and teething bear made of 100% organic Egyptian cotton. This smart gift is suitable for boys and girls alike. Shop Land of Nod.com, $44.
It's My Baby Recordable Journal
Baby books and scrapbooks are a great way to track those special milestones, but sometimes they are just too cumbersome to maintain. It's My Baby Journal™ makes it easy to preserve these once-in-a-lifetime moments. Using cutting edge technology, this valuable software tool helps parents store vivid, organized memories with the click of a mouse. Shop Shower Your Baby.com, $49.95.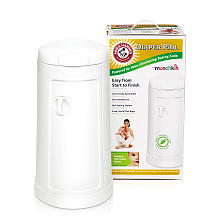 Arm & Hammer™ Diaper Pail by Munchkin
When it comes to controlling household odors, there's nothing like Arm & Hammer™ baking soda. Now this wonderful product comes to the aid of smelly nurseries everywhere. The Arm & Hammer™ Diaper Pail by Munchkin includes a patented self-sealing bag system and an Arm & Hammer™ baking soda cartridge. The cartridge, which lasts more than three months, safely absorbs odors and dispenses baking soda each time the lid is closed. Shop Babies R Us.com, $34.99.
Unique Baby Print Maker
The Unique Baby Print Maker is an elegant shower gift. The new parents can make an impression of their baby's hand or foot and frame it in the lovely black pine shadow-box frame with glass facing. Everything is included: the 11" x 14" frame, picture mats, background board, and air-drying impression material. There is no mess, no mixing, no baking, and no painting. Shop Go To Baby.com, $35.
Days of the Week Bodysuit Set
When you're busy with a newborn, it's easy to lose track of time. These adorable 100% ribbed cotton long-sleeve bodysuits can help. Each features a different day of the week and favorite farm animal. The bodysuits are available in Preemie and 0-3 mos. sizes. The seven-piece set is delightfully packaged in an organza bag, making it perfect for gift giving. Shop Janie and Jack.com, $78.
Baby Lamb Mat
In order to develop properly, babies need a lot of floor time and tummy time. The ultra plush Baby Lamb Mat with beautifully embroidered features makes play time so comfortable for baby. Made of washable cotton chamois, the super-soft mat will become one of baby's favorite snuggle spots. And at a large 31 inches, it can be used through the toddler years! Shop Baby Gifts 101.com, $38.95.
Nursery Rhymes Keepsake Quilt
This charming personalized baby gift will enchant any nursery wall. The cotton quilt features Mother Goose, Humpty Dumpty, This Little Piggy, Mary's Little Lamb, the Cow that Jumped over the Moon, Hickory Dickory Dock's mouse, and a twinkling star against a pastel background. Shop The Corner Stork.com, $47.50.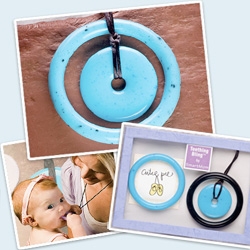 Birth Certificate Holder & First Curl-First Tooth Set
This gift set is a classic. The silver-plated birth certificate holder, first curl holder, and first tooth holder are beautifully arranged inside a rosewood-finish keepsake box. All items are suitable for engraving. Shop Baby Gift Idea.com, $42.
Teething Necklaces
This is a gift for baby and mommy! While baby is tiny, Mom can replace her favorite necklaces with a stylish teething necklace. Baby can tug, chew, and drool on the chunky baubles, which are made in the USA of non-toxic, FDA-approved material. The 30" necklace is available in clear or blue. Shop Uncommon Goods.com, $30.
Radio Flyer Gift Set
This gift comes complete with warm feelings of nostalgia. The Radio Flyer wagon, an American icon, is packed with a plush teddy bear, colorful round ball, baby cap, and matching bodysuit (fits babie up to 12 lbs.). Shop Red Envelope.com, $69.95.
Ultimate Sensitive Baby Basket
Nourish baby's delicate skin with a wonderful gift basket from Susan Brown's Baby. The pure and gentle luxury products are inspired by the fine skincare products of Estee Lauder®, Chanel®, Clinique®, L'Oreal®, and Neutrogena®. Shop Susan Brown's Baby.com, $90.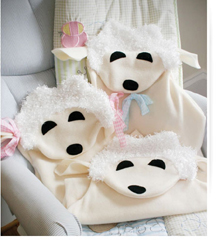 Microwavable Baby Blankets
Sheldon the Lamb© and Shelly the Lamb© are microwavable baby blankets. The machine washable outer shell houses an inner heating pad made of natural ingredients, including lavender flowers and rice. The blankets keep cribs warm and soothe upset tummies, and they can be frozen to fight fevers. Shop Wamelala.com, $39.95.
Halo SleepSack™ Wearable Blanket
Blankets can suffocate a newborn. Now there's a safe way to keep baby warm during the frigid winter months. The Halo SleepSack™ Wearable Blanket is made of cozy microfleece with a silky satin trim and is recommended by the First Candle/SIDS Alliance. Shop Hanna Andersson.com, $36.
Generation Shapers Message Tees
Shower the new baby's entire family with gifts from Generation Shapers, a company that creates fun apparel items, "honoring family through fashion." Tees feature messages such as "love being mom," "family first," my daddy, my hero," and "loved." Shop Generation Shapers.com, various prices.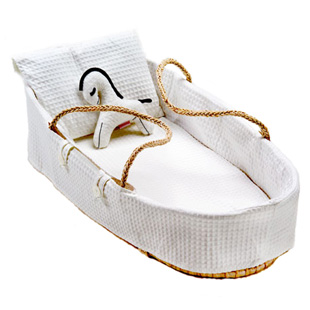 Crystal Sounds DECT Digital Monitor Deluxe
Not all monitors are 100% effective. The Crystal Sounds Deluxe monitor uses digital enhanced cordless telecommunication to ensure clear sounds with zero interference from other household devices. This set includes one baby unit (with a music button) and two portable parent units (small enough to clip to a belt). Shop VTech Kids.com, $79.99.
Moses Basket
A new mom find it hard to let baby out of her sight even for a moment, and with a Moses basket she doesn't have to! Whether she's going to the laundry room or the bathroom, she can easily tote her baby right along with her. The baskets come with or without hoods and keep baby feeling secure and comfy. Shop Moses Baskets.com for a fabulous assortment.
Dilly the Duck Bath Time Gift
A practical hooded bath towel keeps damp baby warm after bathing. The Dilly the Duck Four-Piece Bath Time Gift Set features a reusable hat-box container, white hooded towel, washcloth, and terry spa slippers. Tied up with a grosgrain ribbon, this gift is good to go! Shop Baby Tango.com, $30.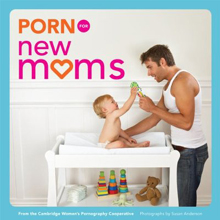 Porn for New Moms
This clever new book by Susan Anderson makes a fun baby shower gift. The "porn" is nothing more than photos of helpful dads doing generous things for their wives. The captions are hilarious! Shop Amazon.com, $12.95.
Hungry Caterpillar 3-Tier Diaper Cake
This is truly an all-in-one gift. The "cake" – which makes a wonderful centerpiece – includes 35 disposable diapers, Hungry Caterpillar puppet and book, washcloths, fork and spoon, booties, brush and comb, and loads of Johnson's baby toiletries. Shop Baby Gift Station.com, $139.
Wooden ABC Bookends
Help start baby's new library with some bookends and books. A pair of bookends featuring alphabet blocks and some classic board books (Goodnight Moon, Corduroy) looks adorable in any nursery. Shop For the Occasion.com, $31.95.
For more baby shower tips: