Baby Nursery Themes For Your Baby Girl Or Baby Boy, Including Organic Baby Nurseries, Modern Nurseries And More!
Are you searching for the perfect baby nursery theme for your baby girl or baby boy? As your wee little one claims a special place in your heart, he or she will also claim a special place in your home. Before you decorate, check out the hottest nursery themes for your bundle of joy's new room.
Michelle Bruns Maffei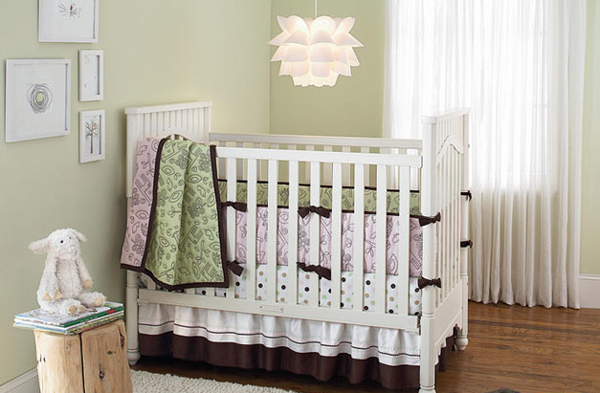 Today's modern babies aren't stuck with just pink or blue rooms. Here are the top baby nursery themes for the place they'll call their own:
Au naturel
The hottest trend in nursery themes right now is green...going green for the planet! From organic cotton bedding to solid wood cribs, these non-toxic nursery options have set a trend of their own.
Designers such as DeAnna Radaj of Bante Design LLC has pulled the look together with a little help from nature. "Main color schemes have been greens, earth-tones, and blue. Nature, with greens and plants (either real, silk, or painted) represents growth and new beginnings--perfect for a little new life!"
Pictured is the Organic Baby Bedding in Jungle in from Gap.com.
Toile
Toile comes in almost any color combination you can think of, making it ideal for both girls and boys. Incorporate tiny details such as a covered light switch or the inside of a book case using the same fabric and a mod podge technique to give the room a classic, polished look.
Personalization
Whether you choose a monogram of your sweet pea's initials or spell out her entire name, you'll be giving the nursery a personal touch with this current craze. From wooden letters to moniker-marked plates to painting right on the wall, there will be no mistaking to whom this room belongs.
Birds
The details of decorating are going to the birds! Cute little chicks are popping up in nurseries in all their 2-D glory…could it be the influence of Twitter? From murals to wall decals to artwork, this look is quickly flying up the popularity chart!
Animal prints
The jungle theme isn't the only option for animal-loving parents. Animal prints, from leopard spots to zebra stripes, are taking over a baby's room near you! For those weary of overkill, incorporating animal print into lamp shades and wooden trash cans can make the same wild statement.
Silhouette look
The modern version of this vintage trend has made its way into the nursery. From painted-on murals to removable decals, splashing the walls with the silhouette of everything from birds to chandeliers to trees brings your baby's room to life without having it go wild.
Rock star nursery
Thanks to the popularity of the guitar-wielding games of late, any tiny tot can become a rock star in his or her own right. Details such as a guitar lamp base, electric guitar fabric, and bold star wall décor can have your baby basking in the limelight from the start.
For a real life rock star nursery, Perla, the wife of Guns N' Roses guitarist Slash, shares all the details of their baby nursery with Pregnancy & Baby.
Vibrant colors
Soft pastels may not be "so last year," but the bright, edgy colors such as pink and green have stolen the spotlight. Combine these trendy colors with any pattern of your choosing, but, favor one and accent with the other for a look that will last from toddlerhood to grade school without a complete room makeover.
Sweet chocolate
Chocolate brown, combined with either pink or blue, has sweetened up the look of nurseries everywhere. Combined with dark brown furniture and rich fabrics, this color pallet is as yummy as your favorite desert.
Modern-retro
Bold prints from the past, such as the owls that were popular in the 70s, are made new again with bright colors and graphic feel. But, don't feel stuck to the muted color palettes of the era; jazzing up the theme with funky crib bedding and cool retro artwork can be conversation pieces that bridge one generation to the next.
Remember to consider decorating choices that are easy to update as your child grows. Removable wall clings make changing themes as easy as changing a diaper, and are less costly than a complete room makeover. Happy decorating!
For more baby nursery design tips: