Tips From Experts And Real Moms On How To Beat The Fatigue And Exhaustion The First Few Months After Baby Is Born.
No one is more exhausted and stressed than first-time moms who are trying to do it all. You may feel fitful or tied down, overcome with housework, desperate for a nap. There is hope! Professional experts and real-life moms chime in about the ways new moms can beat fatigue – emotionally, mentally, and physically – so you can fully enjoy your baby.
Elizabeth Weiss McGolerick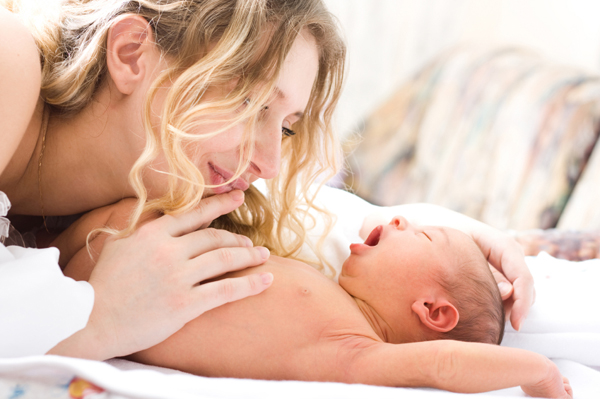 Take your time
Debbie Mandel, author of Addicted to Stress and mom of three, says, "Be patient. New moms rush to do everything, including fitting into their pre-pregnancy clothes. It took nine months to get here, so don't give yourself a deadline."
Claudine Wolk, mom of three and author of It Gets Easier!...And Other Lies We Tell New Mothers, makes it plain and clear: "This is the time to take it easy – no cleaning, cooking or projects. Just be. Insist that the others in your life feed you and take care of you so you can feed and care for the baby and yourself."
Clean up
Start each day with a sense of accomplishment. "Take a shower and get dressed first thing in the morning," says Mary Beth Lopresti, mother of three. Bonus: "A shower can make you feel refreshed enough to fool yourself into thinking you had a good night's sleep!" It's okay if the baby cries for a few minutes but, if it calms your fears, bring the baby and bassinet into the bathroom with you.
Sleep nearby
For improved sleep, Jada Shapiro, mother of one, doula and founder of Birth Day Presence, recommends new moms slumber as close to their newborn as possible. Instead of putting baby in another room, put the bassinet next to your bed. "Nurse him or her immediately before either of you fully wake up and drift back to sleep together."
Temper nostalgia
As a new mom, memories of a previous life can get you down. Elina Furman, publisher of Mamaista.com and mother of one, says new moms don't have to give up their life, but they do need to stop dwelling on the past. "Once I stopped thinking about all the great times I had, it became easier to focus on the present and work out a new identity as a mom."
Dr. Shoshana Bennett, clinical psychologist, author of Pregnant on Prozac and mother of two, advises that you maintain realistic expectations. "Throw out myths such as, 'My needs don't matter anymore – it's all about the baby.'" It's not. It's about you too.
Manage visitors
While it's important to maintain ties with people so you can feel connected to the outside world, Wolk says there is only one type of visitor a new mom should allow past her front door, at least in the beginning: "The one who comes bearing food or cleaning products. If a visitor shows up 'to hang,' answer the door in your robe with your boob perilously close to flopping out while holding a stinky load of laundry. Mission accomplished!"
Accept help
Clinical psychologist, mother of two and author of A Happy You, Dr. Elizabeth Lombardo says, "People want to help, so let them, even if they watch the baby while you nap or shower. You don't have to do it all by yourself." And if no one's offering, ask for a hand, echoes Wolk, whether it's getting someone to fold a load of laundry or produce a meal.
Jill Smokler of ScaryMommy.com and mother of three, says, "Once you're a mom you become a member of 'The Mom Club.' We've all been there before. I'm never ashamed to ask a stranger with kids if she can spare a few wipes should mine run out and am happy to give that crying kid at the park some Goldfish. We're all human, you know?"
Cut yourself some slack
It's ok if you don't love every aspect of mothering, Lombardo says. "That does not make you a bad mom but rather a real person." Says Wolk, "Sometimes moms are afraid to ask for help for fear those around her will think she can't handle things or maybe she feels it will look like she's complaining about motherhood." And when you're feeling overwhelmed, cry, says Furman. "It's important to accept the sadness and grief that comes along with losing your old self. Once I gave myself permission to cry, the difficult feelings became more manageable."
Get out
Accept all babysitting offers, says Smokler. "Even 15 minutes out of the house can help baby and daddy bond and rejuvenate mom," says Chelsea Gladden, mother of three and co-founder of BreezyMama.com, whether it's a quick trip to the store (proper nutrition helps!) or a walk around the block (exercise combats fatigue too!).
Rachel Grace, mother to one, says, "Get out of the house every few days for at least an hour without the baby. Having someone on baby duty and staying home won't cut it. Mama needs a mental and emotional break and she won't get it without changing her environment for a bit."
Sleep whenever you can
If you can nap when your baby naps, do it. The laundry, dishes and even Dancing with the Stars can wait, says Wolk. "Sleep is not a luxury, it's a medical necessity – especially for new moms," says Bennett. "Arrange to share the nighttime baby care with your partner or another adult. A few hours of uninterrupted sleep per night to protect your serotonin level can make the difference between burnout and feeling happy."
Remember how you got here
You got that baby by loving your partner, so don't forget that he still exists. "The better you are as a couple, the better you will feel and the better parents you will be," says Lombardo. It's the little things that can make all the difference, Mandel explains, "Don't criticize your spouse for doing things his way – like putting the sleeper on backwards. Approval begets more help." You're a new trio, but you started as a pair and that hasn't gone anywhere – you're in this together, and you can help each other manage the fatigue.
Take care of yourself, too
Even celebrity moms deal with the fatigue. Actress Gena Lee Nolin, best-known for her time on Baywatch, is a mother of three who has had to overcome her own overwhelming feelings of new motherhood. "No one knows what to expect when bringing a new baby home. Let me tell you one thing my friends, expect fatigue and lots of it! It goes hand in hand with the baby bliss, but can also make you turn into Dracula herself if not you're not getting a reasonable amount of sleep."
Nolin made sure to grab a hot bath, a power nap or anything to clear her mind whenever possible. She adds, "Fatigue goes hand in hand with motherhood and there's no way around it. Do what you can to take care of yourself and know one important thing... it goes by in a blink, so start the coffee and enjoy these little miracles as long as you can." 
For more new mom tips: