Tips On How To Avoid Getting H1N1 Swine Flu While Pregnant And The Safety Of Vaccines During Pregnancy And For Young Babies.
Chances are you've heard a lot about H1N1 – commonly known as "swine flu" -- and may have a lot of questions about how it may affect you and your baby. Here are the answers you need!
Ami Burns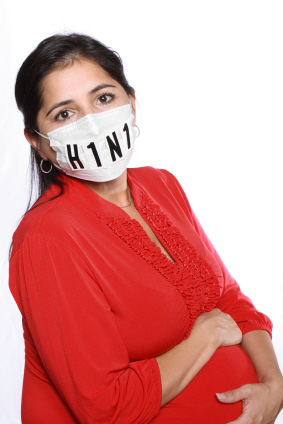 How is H1N1 spread?
The American Academy of Pediatrics (www.aap.org) explains the virus is spread two ways:
Through the air when an infected person coughs or sneezes
 By touching contaminated surfaces or objects like doorknobs, money and toys and then touching your eyes, nose or mouth
What are the symptoms of H1N1?
According to the AAP, signs or symptoms of seasonal flu and H1N1 are very similar and may include:
A sudden fever, possibly with chills
Stuffy nose and cough
Scratchy, sore throat
Muscle aches and discomfort
Headache
Vomiting and diarrhea
"H1N1 tends to be worse for people younger than 25 years old; seasonal flu tends to more severely affect children younger than 5 years and adults older than 64," explains pediatrician Alana Levine, MD , FAAP (www.alanalevinemd.com.)
What's the difference between the seasonal flu and H1N1 flu vaccine?
"Every year the seasonal flu vaccine is new," explains Dr. Levine. "It's composed of the three strains epidemiologists think will be the most common circulating strains that year. The H1N1 vaccine uses the same technology, production steps and manufacturers as seasonal flu, with just a different strain of virus added in."
What else can I do to try and not get the flu?
In addition to vaccinations, frequent hand washing is important. "Warm, soapy water for 20 seconds is best," explains Dr. Levine, "but an alcohol based hand sanitizer is a good second choice."
Keeping away from sick people is an obvious answer, but it's usually easier said than done. If you get the flu, stay home from work or school. Sneeze or cough into a tissue or your upper arm.  And of course, talk to your – or your baby's – doctor about treatment.
Should I be vaccinated if I'm pregnant?
According to the Center for Disease Control (www.CDC.gov), the answer is "yes" because pregnant women are at higher risk of complications and can potentially provide protection to infants who cannot be vaccinated. Dr. Levine recommends pregnant women get the seasonal flu vaccine now and return to their doctors for the H1N1 vaccine as soon as it becomes available.
Are flu shots safe for my baby or young child?
The H1N1 vaccine is being tested for its safety and effectiveness in adults , children and pregnant women, according the AAP, whose guidelines recommend children over six months get both seasonal and H1N1 vaccines. If you are concerned about the vaccine preservative thimerosal,  a thimerosal-free H1N1 vaccine is available.
My baby is under six months old. How can I protect him from the flu?
Keep him away from others who are sick. Have tissues, hand sanitizer or face masks available for family, friends or caregivers who may come into contact with your baby. And again, the importance of hand washing can't be stressed enough!
Can I feed my baby if I'm sick?
The CDC recommends asking someone who is not sick to feed and care for your baby if possible. If you are breastfeeding, you do not need to stop if you have the flu. However, if someone else is able to feed your expressed milk to the baby, that may offer extra protection. Whether you bottle or breastfeed your baby, remember to wash your hands before feedings. The CDC also advises covering your face and nose with a tissue when coughing or sneezing, or even wearing a face mask while feeding or caring for your baby.
What if I still have questions or concerns?
Talk to your doctor to find out what she recommends for you and your baby. This may depend on vaccine availability in your community or certain medical conditions or risk factors your child may have. Gather the information you need about H1N1 and seasonal flu to make an informed decision for your family.
For more tips on preventing the flu: