Tips On Raising An Organic Baby, Including The Best Organic Foods, Fruits With High Levels Of Chemicals And How To Give Your Baby The Best Start In Live In An All-Natural Lifestyle.
Ever wondered how you can make your baby's health a priority? Wonder no more! Our friends at HappyBaby, the company with organic baby foods, have released their new book, HappyBaby: The Organic Guide to Baby's First 24 Months (HarperCollins, 2009) and they have shared their top tips on to give your baby the best start.
Vicki Salemi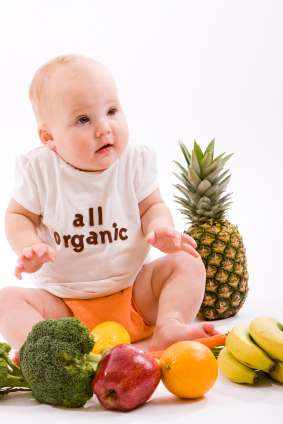 How can you give your child the best start, free from toxins?  A healthy happy life starts when the mama is pregnant.
Foods with high levels of toxic chemicals
According to Shazi Visram of HappyBaby, you must strive to eat foods that are free of toxic chemicals. For instance, when a woman is pregnant it's good to be aware of the fruits and vegetables with the highest levels of toxins.
The list of the "dirty dozen" includes foods such as:
apples
bell peppers
celery
cherries
imported grapes
nectarines
peaches
pears
potatoes
red raspberries
spinach
strawberries.
When shopping for the fruits and vegetables listed above, make sure you buy organic to minimize your exposure to toxic chemicals.
For more information, read How to buy organic foods for your family.
Clean foods
If going green sounds like too much work, try it out in baby steps starting with loading up with the fruit and vegetables with the lowest amount of toxic chemicals. Among the items on this super clean list you should consume?
Asparagus
avocados
bananas
broccoli
cauliflower
kiwis
onions
pineapples.

Smart small
 Start by making small changes! For instance, why not begin the day with a homemade breakfast smoothie instead of a cup of Joe?   By starting to substitute the dirty dozen on your shopping list with a few items from the clean 15, you can make strides in setting the stage for your baby's health. Shazi notes, "It's an easy way to get started and not feel like you have to go one hundred percent organic immediately."
Robert W. Sears, MD, FAAP, co-author of the book adds, "Make sure babies get all of the nutrients and enough irons and probiotics in their food…avoid the dirty dozen with all of the pesticides," he says.
While nutrition plays an important role in your baby's first twenty-four months, we need to be aware of other areas as well, like the environment we're raising them in. "It's about learning more about side effects in paints and household cleaners." Shazi explains.
The diaper dilemma
For instance, maybe you're not ready to go with cloth diapers thinking it'll be too much work. "You don't have to make choices that cost a lot of money or make changes to your lifestyle," Shazi says. Perhaps you'll decide to purchase diapers whose fibers are harvested from a sustainable fibers or use diapers made of cloth with a biodegradable flushable line.
HappyBaby's philosophy on raising an organic baby is this: it's simply about educating yourself and learning as much as possible to make the most informed decisions which go back to basics. When you create a healthy, toxin-free pregnancy you're setting the stage for a healthy baby. Next, feed your baby the freshest, whole organic foods that you can find and as you breastfeed, ensure your diet is organically healthy as well.
Lastly, be cognizant of the environment you're creating and make sure you're allowing the mindset that your baby's immune system is vulnerable and his or her brain is developing at light speed. She adds, "At the end of the day we're raising our children and they're going to inherit this earth."
For more on raising an organic baby: