Find Out How To Make Easy And Healthy Homemade Baby Food, Plus 4 Baby Food Recipes To Get You Started.
Think you are too busy to make your own baby food? Healthy homemade baby food is as easy as 1, 2, 3. Check out our tips for making healthy baby food, plus 4 easy and yummy recipes to get you started.
Jennifer Chait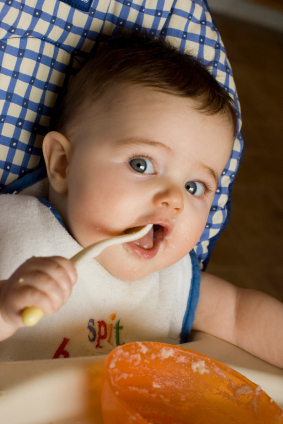 Few tools are needed to make homemade baby food. At minimum, a pot to cook in, a steamer insert and a fork to mash with are the basic tools. Nice extras to have are a blender, food processor or a baby food machine like the Beaba Babycook, which is an all-in-one baby food maker. There are even gadgets like the Wean Machine, that allow parents to make healthy baby food on the go.
3 steps for making homemade baby food
Step one: Choose ingredients. Start with single foods like just carrots to make sure no baby food allergies appear. Wash organic produce well. If using non-organic produce wash and peel. Remove any tough peels, stems, and seeds which pose a choking hazard.
Step two: Cook and mash. Place produce in a steamer insert and steam until super soft. Boling is fine as well, but more nutrients are preserved with steaming. Some veggies and fruits can also be baked until soft.
After cooking, mash, blend, grind or food process produce to the correct consistency. Check out the safety tips below to learn about homemade baby food textures.
Step three: Serve and store. Serve a small amount immediately and store the rest immediately. Homemade baby food can be safely stored in the fridge for three days or in the freezer for two months. To save in the freezer place in ice cube trays, freeze, then pop cubes into a freezer safe container. There's also homemade baby food storage trays like the Beaba Baby Food Freezer Tray available.
Must know safety tips
Follow proper food handling guidelines and make sure all food is the correct texture. Babies up to six months of age need finely pureed food. After mashing, add a little breast milk to thin food out more if needed. Babies who are six months and older can have heartier textures. NOTE: Discuss food textures with your baby's pediatrician to learn about correct food texture at all ages and stages.
4 Easy homemade baby food recipes
Baked squash plus apple and chicken
Packed with beta carotene and vitamin A, plus plenty of potassium, iron, and protein, baked squash is a powerhouse meal for tots. Cut a butternut or acorn squash in half then place open side down in a baking pan in the oven. Bake at 400 degrees for forty minutes or until tender and soft. Scoop the squash out and mash or blend well then sprinkle with a little nutmeg or cinnamon.
This can also be prepared as a squash – apple mix which is sweeter or as a squash – chicken – apple mix for added protein. Simply bake a peeled apple and / or a breast of chicken along side the squash, then blend together before serving.
Turkey dinner for baby
Pureed turkey is a great meal starter because mixes well with anything, such as veggies or fruits or grains for added nutrition. For example, puree turkey with carrots and brown rice, sweet potatoes and peas, or apples and whole grain pasta.
Hippie baby food meals
Mashed or pureed tofu, brown rice, and fresh apricots is an awesome healthy and earthy meal for a baby. Tofu can be mixed with any veggie or fruit or used for a tofu baby dessert by pureeing tofu and pineapple or tofu and applesauce.
Yogurt blueberry baby parfait
Mix organic baby yogurt with mashed or pureed blueberries. Sprinkle crushed Cheerios or baby cookies on top. Blueberries are full of healthy antioxidants and yogurt is calcium rich making this a healthy baby dessert. Try making this with soy yogurt or go yogurt free and instead mash a banana with your blueberries.
It's perfectly fine to experiment with homemade baby food. Try new taste combos and you can even add some spice for flavor!
For more homemade baby food recipes: