How To Design A Baby Nursery On A Budget, Including Tips On Baby Furniture, Baby Decor, Baby Bedding And More.
From baby furniture, to room décor and crib bedding, find out how you can create the perfect baby nursery on a budget.You want only the best for your baby, but you don't have to spend a fortune on nursery décor. Try these money-saving to create a lovely, affordable nursery for your little bundle of joy.
Mary Fetzer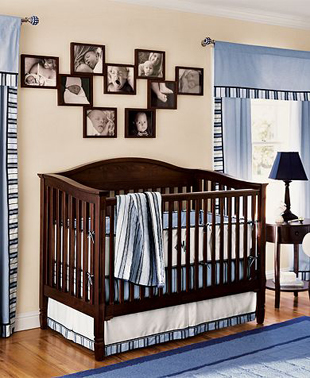 Jennifer Lopez and Marc Anthony reportedly spent $50,000 on their twins' nursery, however for most of us our budget is far, far less. Don't worry, you can create a baby nursery that is within your budget that both you and baby will love. Here's how:
Don't get hung up on a theme
It is possible to have too much of a good thing. While it's lovely to think that everything in the new nursery should match, it's unnecessary and impractical. Do you really want to look at Winnie-the-Pooh on window valances, crib sheets, diaper stackers and wall hangings?
Instead, identify one thing you love – the perfect crib, an antique rocking chair, a favorite quilt – and design the nursery around it. Once you've established this focal point of the room, you can begin to accessorize affordably.
Jen from Oklahoma City built daughter Juliette's room around an area rug. "We were able to find many pieces to complement our funky green rug."
Buy sensibly
With your nursery scheme in mind, hit yard sales, thrift stores and online sites such as eBay and Freecycle.com. Look for gently-used items that you can update with paint, stencils or reupholstering.
Save money and space with dual-purpose furniture. Mom of 4, Tamara Brancati, made a cost-effective changing table using a chest of drawers (IKEA, $69.99) and a changing pad (Babies R Us, $37). "I store diapers and wipes in the top drawer, everyday clothes in the middle drawer and laundry in the bottom drawer," says Brancati. "The room looks orderly and I have everything I need at my fingertips." After her babies are grown, Brancati won't be left with a useless changing table.
 
Doula Angelita likes the idea of converting an old-fashioned wooden telephone stand into baby furniture. "Add a coat of paint and a skirt," says Angelita, "and the old mahogany table becomes a sweet baby girl vanity with hidden storage."
Get more tips here on designing a nursery that will grow with baby.
Introduce color
Pink and blue aren't the only color options for a nursery. Use paint, bedding, area rugs and window treatments to bring a variety of complementary colors into the room.
Jim and Theresa Currie, Mandeville, LA, hired a high-school art student to paint a mural in the nursery. "We wanted to quote a scripture verse and incorporate it into the color theme and motif of the room," say the Curries. The young artist charged $100 for the four-hour project. The Curries, "were thrilled with the result and how affordable it was."
Should you be worried about painting the nursery and paint fumes while pregnant? Find out here. 
Create inexpensive storage
A nursery is full of tiny clothes, toys, and other baby things that make clutter inevitable… unless you have clever, useful storage options. Craft stores and dollar stores have delightful selections of inexpensive decorative boxes, bins and crates in a variety of materials and patterns to compliment your color scheme.
Anne Marie Schar of Menlo Park, CA, had minimal money and space for a nursery. Instead of bulky, pricey furniture, Schar used wicker baskets from Target (set of 3, $32) and Wal-Mart (set of 2, $25) for clothing and baby supplies. The lined baskets came in a variety of colors that worked well with the nursery palette. "They store nicely in closets and under the crib," says Schar. Canvas bins from Bed, Bath & Beyond ($14.99) and wall organizers from Reisenthel are great options, too.
Get more tips on baby nursery organization and storage here.
Decorate with love
Your baby will spend a lot of time looking up – from her crib, your lap, the floor. Create beautiful wall art with framed photos. Place photos of Mom, Dad, siblings, grandparents, pets, your home and other appealing objects in picture frame matte boards. Matching mattes will create a unified look, and you can change out the pictures whenever you want to change the look of the room. Enlargements from Walgreens, Kodak and other photo services are inexpensive – 5"x7"s and 8"x10"s are well under $5 each.
From paint and bedding to furniture and storage, keep it simple and affordable. The result will be a cozy nursery for your precious little one.
Pictured, above is the Chase Blue Nursery from Pottery Barn Kids.
For more baby nursery design tips: