Homemade Baby Food Recipes For Your Toddler And Child, Including This Easy And Healthy Corn Chowder Recipe From Better Baby Food.
Great corn chowder was never easier than this! Toddlers and babies 12-18 months will love the creamy taste of this easy and healthy soup.
Daina Kalnins and Joanne Saab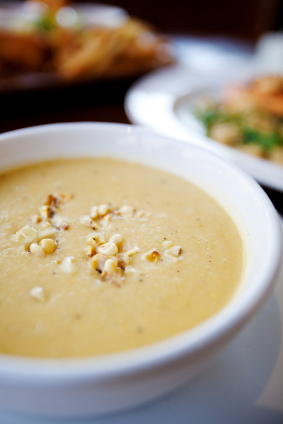 Corn Chowder
By Better Baby Food
Ingredients
1 can (10 oz/284 mL) cream of
 potato soup
1?2 cup 2% milk 
1?2 cup canned cream-style corn 
1 small seeded and diced tomato 
1?4 tsp dried thyme 
1?8 tsp freshly ground black pepper 
1?4 cup shredded Cheddar or Monterey  
 Jack cheese
Directions
1. In a medium saucepan, combine soup, milk, corn, tomato, thyme and pepper. Bring to a boil, stirring constantly.
2. Spoon into serving bowls. Sprinkle
each with cheese. Let infant servings cool to a safe temperature.
Makes 3 cups
Nutritional analysis (per 1/2 cup)
Sodium – 480 mg
Iron – 0.4mg
Calcium – 70mg
Fiber – 1 g
Fat – 3g
Carbohydrate – 10g
Protein – 3g
Energy – 78kcal
78 kcal
Recipes reprinted with permission from Better Baby Food, 2/E, by Daina Kalnins and Joanne Saab, Robert Rose Inc. 2008.
For more homemade baby food recipes: