Homemade Baby Food And Toddler Recipes For Your Child, Including Easy And Healthy Carrot Soup.
Your baby or toddler will love the rich, creamy taste of this colorful carrot soup. From the book Better Baby Food, find out how to make this yummy and healthy soup.
Daina Kalnins and Joanne Saab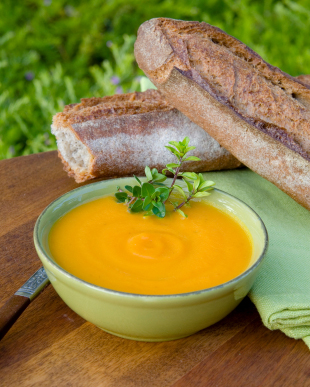 Colorful Carrot Soup
From Better Baby Food
Ingredients
2 tbsp butter or margarine 
1 cup finely chopped onions 
3 cups thickly sliced carrots 
4 cups chicken stock 
2 tbsp tomato paste 
2 tbsp long-grain rice 
1?2 cup whole milk 
1?4 tsp salt 
1?4 tsp freshly ground black pepper 
2 cups water 
Directions
1. In a large skillet, melt butter over medium heat.
Add onions and cook until soft. Add carrots, stock, tomato paste and rice; reduce heat and simmer for
30 minutes.
2. In a food processor or blender, purée soup in batches until smooth, transferring each batch to a saucepan. Stir in milk, salt and pepper. Add water. Heat until warmed through before serving.
Makes 8 cups (2 L)
Kitchen Tips
For additional protein, add tofu or cheese to soup. Serve with hot bread or buns.
This recipe can be prepared in advance, up to the point of adding milk in Step 2. Purée can be frozen in portion sizes until ready to eat. Just defrost and add milk. Warm until heated through.
For a richer texture, use cream instead of milk.
Use homemade or reduced-sodium stock to lower the sodium content of this recipe.
Nutritional analysis (per 1/2 cup)
Energy – 53 kcal
Protein – 2g
Carbohydrate – 6g
Fat – 2g
Sodium – 144mg
Iron – 0,2mg
Fiber – 1g
Calcium – 22mg
Recipes reprinted with permission from Better Baby Food, 2/E, by Daina Kalnins and Joanne Saab, Robert Rose Inc. 2008.
For more homemade baby food recipes: