Homemade Baby Food And Toddler Recipes, Including These Soft Banana Cranberry Cookie Recipe.
Mashed bananas and rolled oats give body, taste, texture and nutritive value to these soft cookies. They are just the thing for a children's snack or to finish a family meal.
Daina Kalnins and Joanne Saab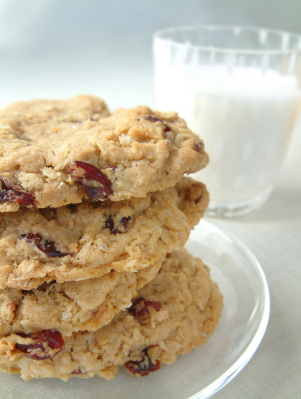 Soft Cranberry Banana Cookies
From Better Baby Food
Ingredients
1?2 cup finely chopped dried cranberries
 (optional)
1 ripe medium banana, mashed
1?3 cup butter or margarine (see tip) 
1?4 cup apple juice 
1 egg
1?2 tsp vanilla extract 
1 cup old-fashioned rolled oats 
1?2 cup all-purpose flour 
1?4 cup packed brown sugar 
1 tsp baking soda 
Preheat oven to 350°F
Directions
1. In a bowl, stir together cranberries (if using), banana, butter, apple juice, egg and vanilla; mix until smooth. Stir in rolled oats, flour, brown sugar and baking soda;
blend well.
2. Drop by spoonfuls onto greased baking pans; flatten with a fork. Bake in preheated oven for 10 minutes or until lightly browned. Let cool on a wire rack before storing in a tightly closed container.
Makes 36 cookies
Variation
For a peanut-flavored version of these cookies - and where there is no danger of nut allergy - replace the butter or margarine with peanut butter.
Nutritional analysis (per cookie)
Sodium 50mg
Iron – 0.4mg
Calcium – 5mg
Fiber – 1g
Fat – 2g
Carbohydrate – 8g
Protein – 1g
Energy – 55 kcal
Recipes reprinted with permission from Better Baby Food, 2/E, by Daina Kalnins and Joanne Saab, Robert Rose Inc. 2008.
For more homemade baby food recipes: